#Domain crime : Criminals stopped by Homeland Security in #Coronavirus sting
In the old days, before your grandma learned how to use Zoom, the original thought crime was the escort sting.
An unassuming driver pulls up to a street corner, asks a nearby woman for a "date," and within seconds, the driver is arrested, the car impounded, and a serious fine is imposed. No physical crime was committed, the woman was a police officer, and at no time could any favors have been exchanged.
Today, this same process has moved online to every type of business, from construction contracts to domains. Originally Homeland Security focused on shutting down sites exploiting minors and later expanded their efforts to combating the sales of counterfeit clothing and intellectual property theft.
With half of the country in lockdown, Homeland Security has a new target, scammers seeking to profit from the Coronavirus. They even have a new warning specifically targeting such Covid-19 criminals: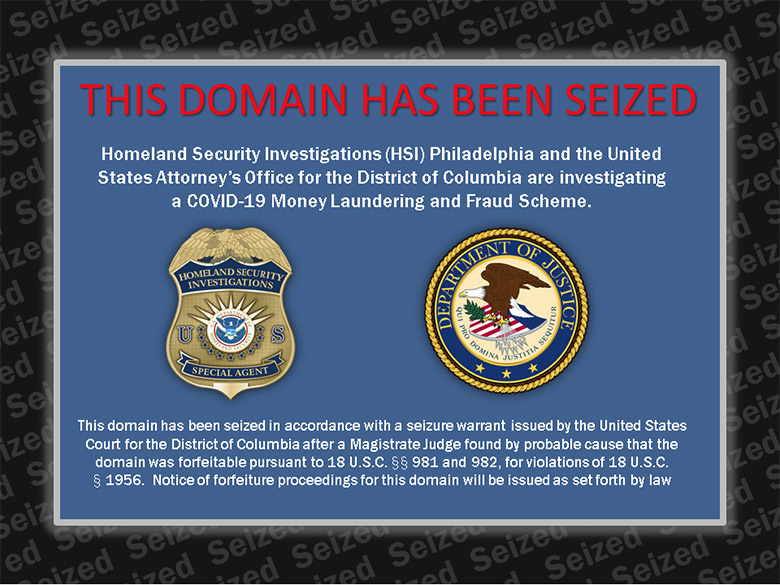 On February 2nd, the domain name CoronaPrevention.org was registered at Namecheap.
That alone is not an apparent crime; however, once the owner decided to solicit the name on the dark web under the pretense of selling fake Coronavirus testing kits, Homeland Security got involved.
The seizure warrant alleges that the owner of the domain name, coronaprevention.org, posted it for sale on a hackers forum. The post appeared the day after the President declared a national emergency due to the COVID-19 pandemic. The seller stated on the forum that this domain would be an effective way to sell "high markup in demand products." The seller exponentially marked up the price of the domain. The seller asked for the payment to be made via bitcoin.
According to US Attorney Tim Shea: "We will not tolerate exploitation of this national emergency for personal gain."
Rest assured, this will not be the last attempt, by criminals, to profit off the pandemic, so make sure you make all of your online purchases from reputable sites, and use common sense.
Story kudos: Dale G.
The warrant ordering the seizing of the domain name CoronaPrevention.org can be seen below:

Copyright © 2023 DomainGang.com · All Rights Reserved.
Comments
One Response to "#Domain crime : Criminals stopped by Homeland Security in #Coronavirus sting"