Candy.com applied to register the matching mark as #NFT and #crypto tokens
Candy Digital, Inc., operators of the premium domain name Candy.com, have applied for the registration of the matching mark, CANDY.COM, at the USPTO.
The application was filed with an intent to use clause, for a range of NFT and other token-related products and services:
Providing an on-line marketplace for buyers and sellers of digital currency assets, non-fungible tokens (NFT's), physical assets, artwork, music, text and audio and video, and other media; providing digital collectible services, namely, operating an online marketplace for transactions and registry services using blockchain-based software technology and smart contracts for digital collectibles; providing an online digital asset marketplace for buyers and sellers of crypto-tokens; providing online marketplaces for sellers of goods and/or services; arranging and conducting special events for commercial, promotional or advertising purposes related to collectibles and non-fungible tokens; trade show and commercial exhibition services relating to the transaction of crypto or blockchain based tokens; providing business advice relating to blockchain, NFT's and crypto; commercial administration of the licensing of the goods and services of others; operation, management and supervision of loyalty and incentive programs; art curator services; online retail store services for a full range of goods and services; providing an online searchable database of content creators and content providers; online advertising network matching services for connecting creators; online advertising and marketing services, namely, integrated marketing and digital content creation; on-line customer-based social media brand marketing services; online trading services in which sellers post products or services to be offered for sale, and purchasing or bidding is done via the internet in order to facilitate the sale of goods and services; providing a searchable online advertising guide featuring the goods and services of online vendors; providing a searchable online evaluation database for buyers and sellers; promoting the services of others by the means of promotional raffles, sweepstakes, contests and incentives

Entertainment services, namely, providing online games in which players can earn non-fungible tokens, digital tokens, or application tokens; entertainment services, namely, providing online games in which players can earn non-fungible, digital tokens, or application tokens for exchange, trade, sale, or purchase in an online marketplace; providing entertainment and education using blockchain, distributed ledgers, digital currency, virtual currency, digital and blockchain assets, digitized assets, digital tokens, crypto tokens, non-fungible tokens, and utility tokens
No longer a dispensary of real candy, the domain formerly owned by Rick Schwartz switched its business focus a while back. In the early 2010s, Candy.com was somehow penalized by Google's algorithms, before recovering.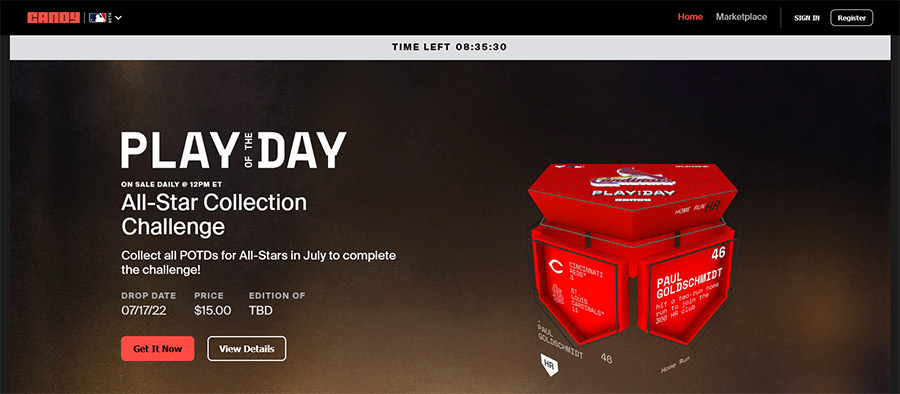 It's an ongoing trend among owners of generic domain names, following the decision by SCOTUS on the Booking.com trademark application.
Since then, dozens of generic domain names have been applied to be registered as trademarks, inclusive of the TLD.
As of January 5th, 2021, BOOKING.COM is a registered trademark with the USPTO.
Will these applications become the new norm? Watch this video from NamesCon Online 2020.
Copyright © 2023 DomainGang.com · All Rights Reserved.