Generic #domains: RV.com files for trademark at the #USPTO
Trending: Companies operating generic domains file for trademark registration at the United States Patent & Trademark Office (USPTO.)
Following the green light by SCOTUS on the Booking.com case, numerous such applications have been filed, and we keep track of these attempts to expand on the trademark pool.
The operators of the domain RV.com break new ground, as it's the first two letter .com (LL .com) that we're aware of that files for a trademark inclusive of the TLD.
The trademark application for RV.COM arrives with plans for a new web site launch, for the following services:
Providing a website featuring consumer product information relating to recreational vehicles; Online retail store services featuring recreational vehicles, recreational vehicle parts and accessories, and outdoor recreational and camping products
Providing a website with information in the field of travel
Online Media; Providing online publications, namely, magazines and newsletters in the field of recreational vehicles, camping and travel, and outdoor recreation; providing a website featuring information in the field of recreational camping
Providing a website featuring information about campground accommodations
The trademark application was filed with an "intent to use" clause, but from what we see there hasn't been a change in ownership as the trademark was filed by CWI, Inc.
RV.com is without doubt one of the most valuable two letter .com domains, and along with a registered trademark it'd strengthen its corporate valuation and worth.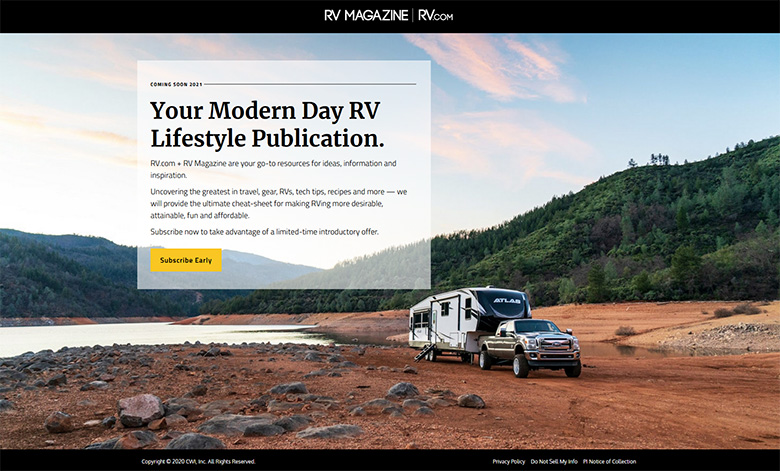 Copyright © 2022 DomainGang.com · All Rights Reserved.