GoodMorning.com owner applies for trademark registration two years after brand change
GoodMorning.com is a Canadian eCommerce mattress and sleep product company, co-founded in 2009 by siblings Sam Prochazka, Andy Prochazka, and Helenka Prochazka under the name Novosbed.
In 2019, Novosbed changed its name to GoodMorning.com and launched a new website that houses its mattress product line and sleep accessories.
The company applied for the registration of the stylized mark GOODMORNING.COM with the USPTO.
The application lists in part the following products and services as related to the mark:

Beds; adjustable beds; folding beds; water beds; wooden beds; sofa beds; bed bases; bed frames; mattresses; bed mattresses; mattress toppers; air mattresses and spring mattresses; beds for household pets; blankets for household pets; bassinets; bumper guards for cots, other than bed linen; bumper guards for cribs, other than bed linen; cots for babies; cribs for babies; baby changing mats; camping mattresses; sleeping pads; sleeping mats; furniture; mirrors; air mattresses, not for medical purposes; air beds, not for medical purposes.
The USPTO trademark application cites a Canadian trademark application filed in October 2021 as its filing basis.
The domain GoodMorning.com was registered in 1997 and in 2010 it was reportedly sold via SnapNames for $25,000 dollars. Source: NameBio.
However, the sale to the current owners and the rebranding took place in or around April 2019. At the time, it was available for sale on Afternic and potentially other domain selling platforms. There is no information about the sales amount involved in the transaction for the domain GoodMorning.com.
Why was GOODMORNING.COM applied for as a trademark at the USPTO?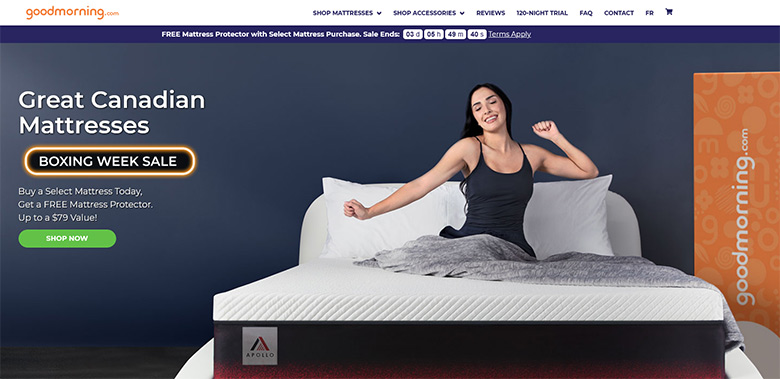 It's an ongoing trend among owners of generic domain names, following the decision by SCOTUS on the Booking.com trademark application.
Since then, dozens of generic domain names have been applied to be registered as trademarks, inclusive of the TLD. We keep track of these applications, and so far none has been decided upon.
As of January 5th, 2021, BOOKING.COM is a registered trademark with the USPTO.
Will these applications become the new norm? Watch this video from NamesCon Online 2020.

Copyright © 2022 DomainGang.com · All Rights Reserved.