Grays.com: #Domain sold as Aussie company brand gets upgrade
Grays.com is operated by the Australian company Grays. According to their website:
Grays is the largest industrial, auto and commercial eCommerce business in Australasia, offering a huge range of industrial, auto, consumer and commercial goods, direct from manufacturers and distributors.
Crikey, mate. This is a company formed in New South Wales in 1922, selling cattle.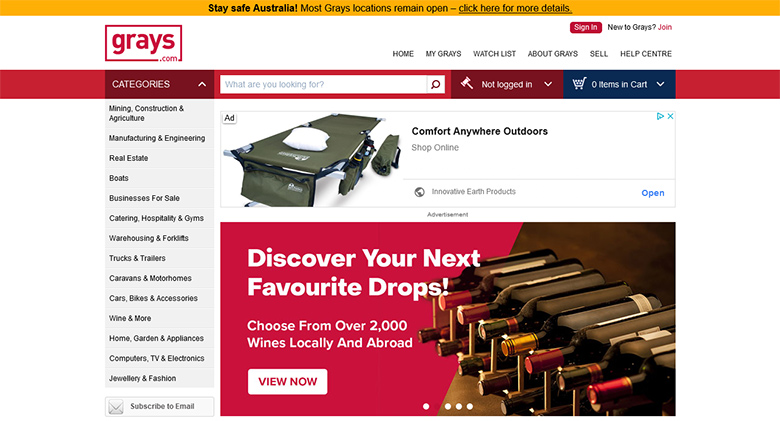 Recently, the company filed for the registration of the GRAYS.COM mark in stylized format, for the following services:
Auctioneering; Real estate auctioneering; Online retail services
Conducting valuations; Jewelry appraisal (valuation); Property valuation; Valuation of assets; Valuation of capital stock; Valuation of machinery; Valuation of furniture; Valuation of pictures; Valuation of plant; Valuation of property; Valuation of real estate
The application was filed with an "intent to use" clause based on an existing international (Australian) trademark for GRAYS.COM.
Until 2020, Grays operated from the domain GraysOnline.com but that changed in or around June 2020. The previous owner kept this domain since its registration in 1996, advertising it for sale under the "domain man" moniker as early as in 1998.
We can safely presume that the domain Grays.com was sold to Grays last year, at a price consistent with its qualities: a premium dictionary word .com.
There are no records of the domain's sale on NameBio.
Why was GRAYS.COM applied for as a trademark at the USPTO?
It's an ongoing trend among owners of generic domain names, following the decision by SCOTUS on the Booking.com trademark application.
Since then, dozens of generic domain names have been applied to be registered as trademarks, inclusive of the TLD. We keep track of these applications, and so far none has been decided upon.
As of January 5th, 2021, BOOKING.COM is a registered trademark with the USPTO.
Will these applications become the new norm? Watch this video from NamesCon Online 2020.
Copyright © 2023 DomainGang.com · All Rights Reserved.