It.com applies for the registration of the matching #trademark, IT.COM
British company UK Intis Telecom LTD, operators of the premium domain It.com, have filed an application for the registration of the matching mark, IT.COM.
The mark is applied with an "intend to use" clause for the following services:
Domain name registrar services.
The mark consists of a stylized arrow above the white stylized wording "it.com" with point in the middle, all of the aforementioned appearing on a dark blue square.
In October 2021, the domain IT.com was sold for the sum of $3.8 million dollars. The transaction's broker was James Booth.
Essentially, the operators of It.com will be making registrations of *.it.com (sub)domains available to the general public. As IT is also the two character code for Italy, it's not any different than other such two letter .com domain operators such as CentralNIC; the added benefit is that of "IT" standing for "Information Technology."
Why was IT.COM applied for as a trademark at the USPTO?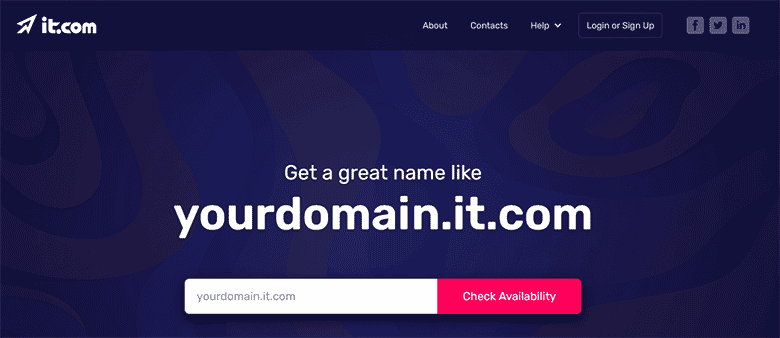 It's an ongoing trend among owners of generic domain names, following the decision by SCOTUS on the Booking.com trademark application.
Since then, dozens of generic domain names have been applied to be registered as trademarks, inclusive of the TLD.
As of January 5th, 2021, BOOKING.COM is a registered trademark with the USPTO.
Will these applications become the new norm? Watch this video from NamesCon Online 2020.
Copyright © 2023 DomainGang.com · All Rights Reserved.
Comments
2 Responses to "It.com applies for the registration of the matching #trademark, IT.COM"