Readers.com: Optics giant's proxy acquisition files for trademark registration
EssilorLuxottica SA is an Italian multinational corporation based in Paris and founded in 2018 from the merger of the Italian Luxottica with the French Essilor.
The company commands the lion's share of optics and eye wear brands worldwide and a portfolio of proprietary and licensed brands including Ray-Ban, Oakley, Michael Kors, Varilux, Crizal, Transitions, and LensCrafters.
In other words, if you're wearing any type of glasses, chances are that the technology or the brand are owned by EssilorLuxottica or its many daughter companies. 😀
One of them is FGX International, a leading global designer and marketer of non-prescription glasses. In 2018, FXG International acquired One Click Internet Ventures LLC, a company that was founded in Indiana in 2005. One Click was a successful ecommerce eyewear company that in 2013 acquired the domain name Readers.com.
The seller of Readers.com was First Place Internet, a domain portfolio manager often associated with Digimedia. There is no record of the sale of Readers.com that is still listed under One Click Internet Ventures LLC.
The mother company, FGX International, filed for the registration of the stylized mark READERS.COM. The mark consists of the letter "R" with an attached circle to the right forming an eyeglass shape with the word "READERS.COM" beneath it:
Eyewear; eyeglasses; reading glasses; reading sunglasses, computer glasses, eyewear accessories, namely, pouches and cases.  On-line retail store services featuring eyeglasses and eyeglass accessories.
It's interesting to see a generic domain name such as Readers.com fall into the lap of the world's biggest designer of both prescription and non-prescription glasses, via a series of corporate acquisitions. 😀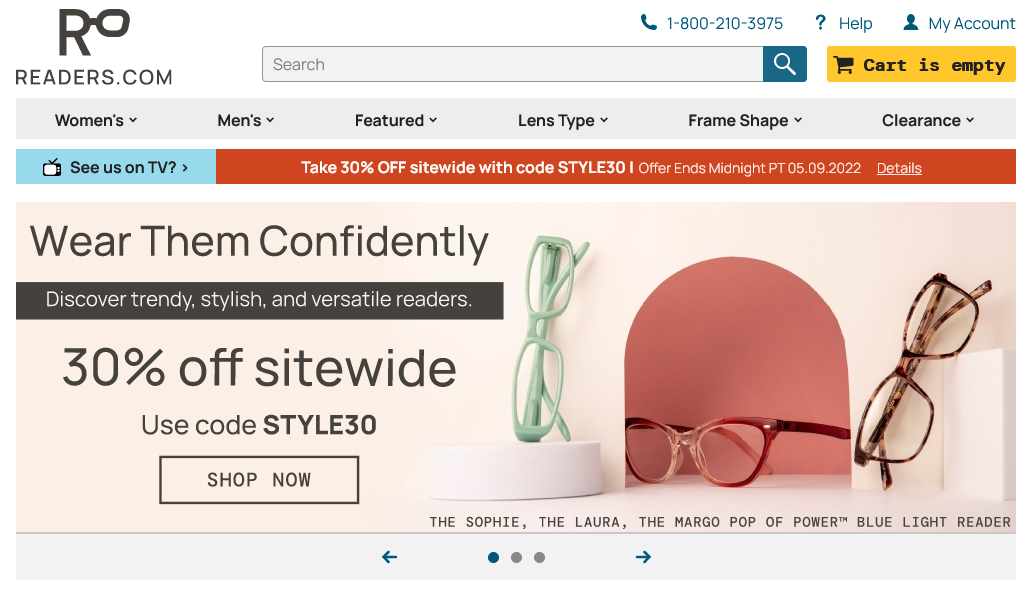 Why was the domain name READERS.COM applied for as a trademark with the USPTO?
It's an ongoing trend among owners of generic domain names, following the decision by SCOTUS on the Booking.com trademark application.
Since then, dozens of generic domain names have been applied to be registered as trademarks, inclusive of the TLD.
As of January 5th, 2021, BOOKING.COM is a registered trademark with the USPTO.
Will these applications become the new norm? Watch this video from NamesCon Online 2020.
Copyright © 2023 DomainGang.com · All Rights Reserved.