ABC.io : Looks like the $50,000 dollar #Sedo auction went through, but not really
The registrant of the domain ABC.io took a risk last month, sending a $50,000 dollar offer for the domain to a week-long auction at Sedo.
The auction ended with no further bids, and the expected outcome is for the sole bidder – who made the $50k offer – to pay for the domain.
Typically, Sedo takes over and the domain is moved to Sedo escrow; instead, the domain ABC.io is currently in "pending transfer" status.
This could be due to a customized transfer where the buyer's funds clear early on, and the domain is moved out to the registrar of their choice; then again, ABC.io is still listed at Sedo and now the asking price has been increased to $200,000 dollars.
If this transaction completes, it'd be the 4th highest .io sale ever reported (per NameBio) after swipe.io, lucky.io, and tank.io.
Dot .io is a controversial ccTLD that has been embraced by start-ups due to its input/output tech reference.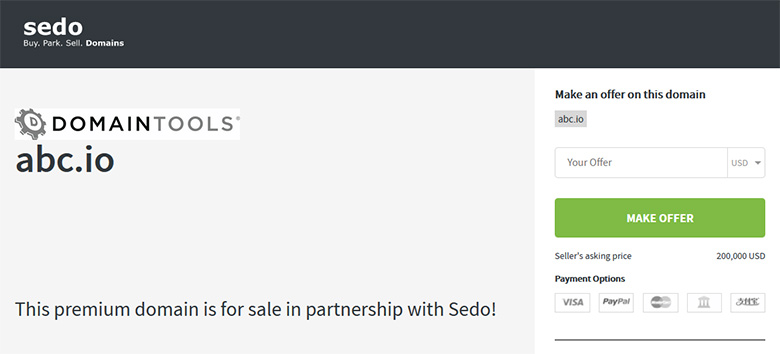 Copyright © 2022 DomainGang.com · All Rights Reserved.