AutoDNS Chrome extension gives live domain insights
What could suddenly improve your domain analysis overnight?
We know your browser is your window to the internet, which is why we developed the AutoDNS Chrome extension. It simplifies your domain and website data analysis by consolidating all information into a single dashboard. A fantastic tool every domain expert like you must have!
Note: This is a sponsored post by InterNetX, creators of the AutoDNS service.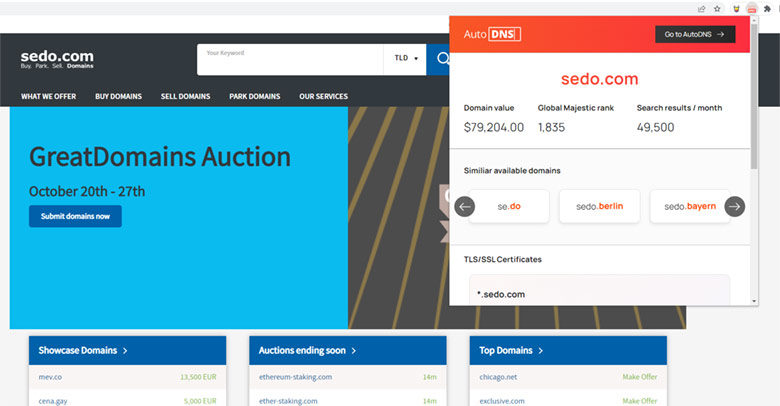 Based on the processing power and extensive data collected by AutoDNS, the all-in-one domain platform developed by InterNetX, it now takes only one click to access valuable domain insights such as the domain value, search results, website and brand information. The AutoDNS Chrome extension extracts the most important domain data in the blink of an eye for research on the go – directly in your Google Chrome browser.
"The AutoDNS Chrome extension shows relevant domain and website insights instantly. Registered AutoDNS users benefit from a shortened customer journey, which goes hand in hand with an improved customer experience", explains Michael Piotrowski, Head of Marketing at InterNetX. "With the free AutoDNS add-on, registered AutoDNS users can now register suggested domains via the extension with just five clicks!"
A domain insights panel in your browser packed with features!
The AutoDNS Chrome extension offers seven powerful functions from the extensive feature set in the AutoDNS domain platform. These are the main features of the AutoDNS browser plugin at a glance:
👉 Domain value: Get an estimated value of the domain you are visiting
👉 Similar available domains: Find and register other free domains that contain your brand or site name before anyone else
👉 Majestic Million rank: Keep an eye on the Majestic Million rank for your websites and those of the competition
👉 Search results: Get exact information on the monthly page views
👉 Social media profiles: Find out on what social media the brand has a profile on
👉 WHOIS data: Access WHOIS data about the website owner
👉 TLS/SSL certificates: Get information about the encryption used.
The AutoDNS Chrome extension is out now!
We've all been there. Frantically searching for domain information, switching from one browser tab to the other. Well, those days are over. Enjoy the benefits of the most powerful all-in-one domain platform. You can now quickly and efficiently analyze the currently visited domain.
Download the new AutoDNS Chrome extension today and try it for free!

Copyright © 2022 DomainGang.com · All Rights Reserved.