Battle of the new gTLDs: .XYZ back on top, as .TOP hits bottom
The fight for the gTLD roster continues, and dot .XYZ is back at the top spot, after losing it temporarily to China-heavy .TOP.
Dot .XYZ went through its "cleansing" period, having lost the majority of its penny promo campaign a year later. During that time, it fell to spot #2 and .TOP rose to the #1 spot.
A few weeks later, dot .TOP went through its own losing cycle, and hundreds of thousands of .TOP domains dropped.
As we can see in this curve below, .TOP is about to hit bottom, with another half million domains expected to drop.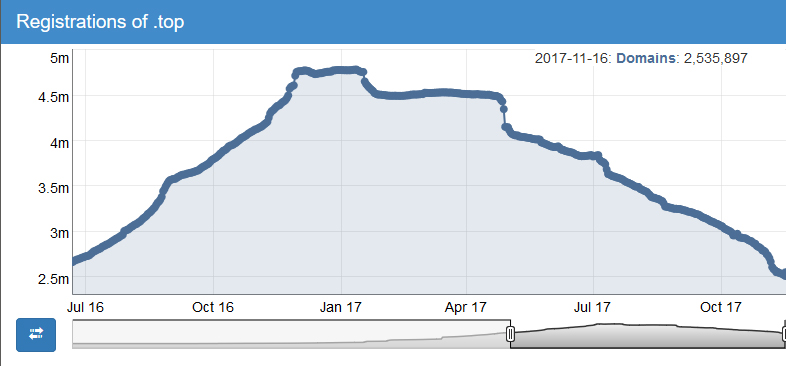 Once the dropping cycle for .TOP completes, it will most likely fall to spot #3, behind dot .LOAN, a mysterious gTLD that we surely can't believe it's being used by that many loan officers around the world!
Overall, the combined losses of all new gTLDs will reduce the total number of domain registrations to approximately 22 million by year's end; that's about 6 million fewer domains than at the beginning of the summer.
The inflating effect certain new gTLDs and their promotions generated, is thus being deflated.
Copyright © 2020 DomainGang.com · All Rights Reserved.
Comments
2 Responses to "Battle of the new gTLDs: .XYZ back on top, as .TOP hits bottom"