CareerMarket.com: Aged (1997) domain registration dropped suddenly
Registering a premium, two word .com domain name such as CareerMarket.com in 1997 "by hand" was the norm at the time.
Quality word/word .com domains can be both great brands and are easier to retain search engine rankings; unlike, say, generic one word domains that can be lost in their own keyword's "noise."
The domain CareerMarket.com doesn't appear to have been used for "career market" listings or job searches throughout its entire lifespan, which ended in 2022.
Suddenly, after all these years, CareerMarket.com expired, dropped, and was promptly picked up by DropCatch where it's been listed in a 3 day auction.
Who was the registrant of the domain CareerMarket.com?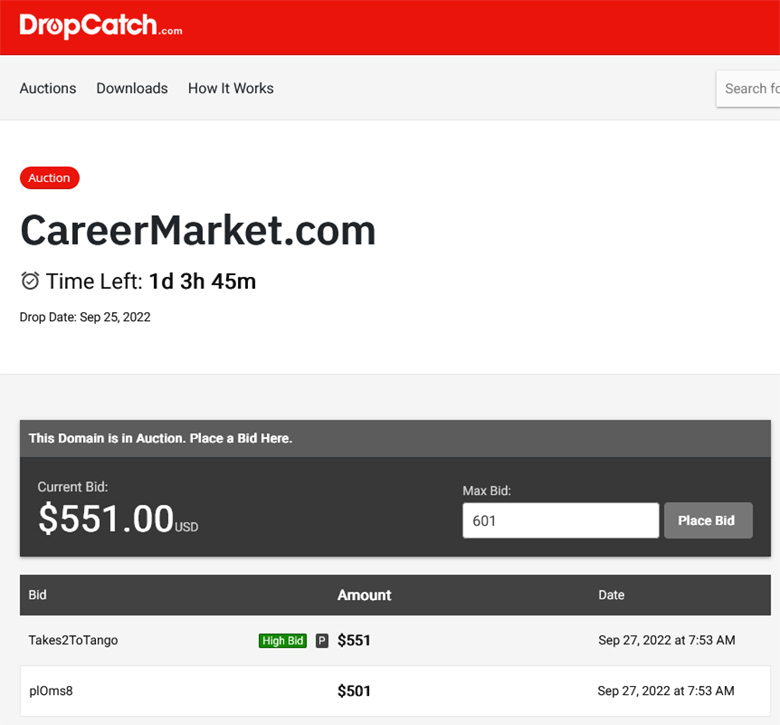 According to our research, the domain was owned by Q Alpha, Inc., "a leading information technology solutions firm providing consulting and custom software development in proprietary, open system and heterogeneous environments."
Due to some misconfiguration on their QAlpha.com domain, the listing of Physics.com is included, with a contact email.
That email takes us to the owner being Milan Reichbach, who also launched Animation.com as an NFT project in late August 2022. Animation.com has been listed as sold twice by NameBio, in 2004 and 2013.
It's not clear why an experienced entrepreneur would let go of a domain such as CareerMarket.com and we believe it was an unfortunate accident.
Copyright © 2023 DomainGang.com · All Rights Reserved.