CNN.live : #Trademark squatter irks Rick Schwartz on Twitter
The registrant of the domain CNN.live, an obvious infringement of a famous trademark, irked Rick Schwartz on Twitter today.
Posting the domain CNN.live for sale by tacking onto a tweet by the Domain King, unleashed Rick's wrath, who said:
Hey, owner of CNN(.)LIVE & NetPay(.)us
@visarrex
You can delete your tweet trying to sell these on my thread, but u can't delete being a #trademark infringer & #cybersquatter

You and your ilk are NOT #Domainers & the registries should know better!

#Domains #domain #domainnames
Further exchanges targeted the domain's registrar, NameCheap.
While it's not the registrar's job to police infringing domains, ICANN mandates that any illegal activity related to phishing or other blatant online crime be handled by the registrar. The UDRP process was designed to address complaints of this nature, and to transfer domains to trademark holders.
The domain CNN.live is available via Sedo, where its Swedish registrant is seeking 25,000 euro. The domain isn't expected to last long at Sedo's listings, per our estimate.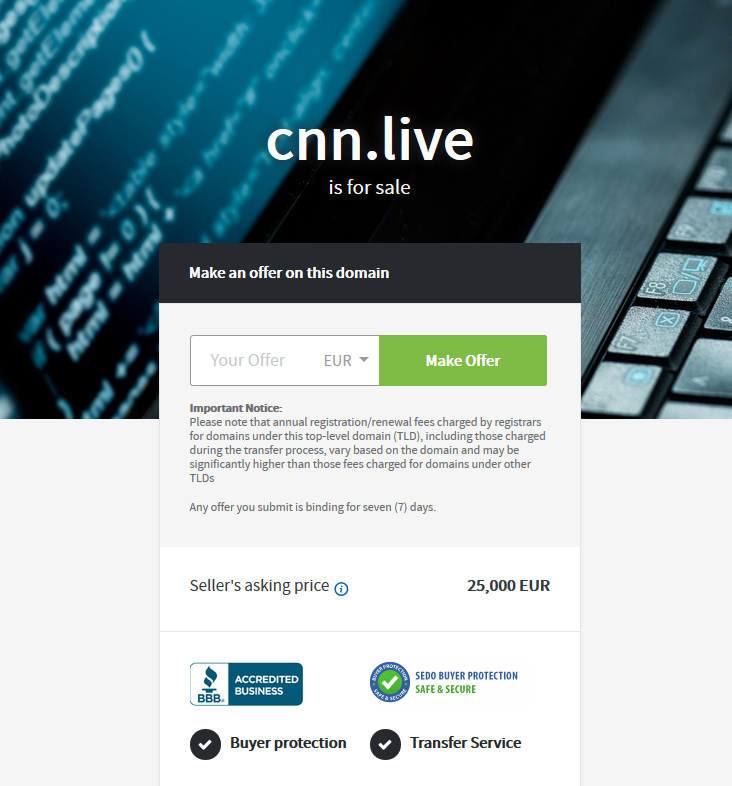 Copyright © 2023 DomainGang.com · All Rights Reserved.
Comments
One Response to "CNN.live : #Trademark squatter irks Rick Schwartz on Twitter"