Dollars, Euro, Pounds – and #domain investors with common sense
If you live in the United States, you're probably well aware that, as citizens, we collectively owe a national debt of $26 trillion. You've heard about stacking $1 bills in that amount, and how many trips to the moon it would make – so here's a great site that puts that figure into another perspective.
If you're reading this, you also know that the collective minds of domain investors work differently.
So just for you, if you take that $26 trillion dollars of national debt and divide it by the total number of domains, approximately 360 million, that comes to $72,000 dollars per domain.
With 100 domains in your portfolio, that's $7.2 million!
Given that large figure looming over your head you may have asked, "Is there a way to protect the value of my domains?"
That's when terms like 'dollar reset', 'currency collapse' and 'digital dollar' are starting to make the rounds, so what can you do?
Imagine waking up tomorrow, and the US declared the dollar would be replaced by the Digital Dollar, and USD was now only worth .9 Digital Dollars, your domains would immediately be for sale at a 10% discount.
If you believe the Euro or British Pound are more stable, one option, at Sedo, is to price your domains in either GBP or EUR.
In fact, if you had listed one name for sale at Sedo in May at a price of $10,800 USD, at the equivalent of 10,000 EUR, and you sold it today, you would get $10,800 USD. If you had listed the name at 10,000 EUR, you would get $11,760 USD. Looking at the EUR/USD Forex chart, you can see why: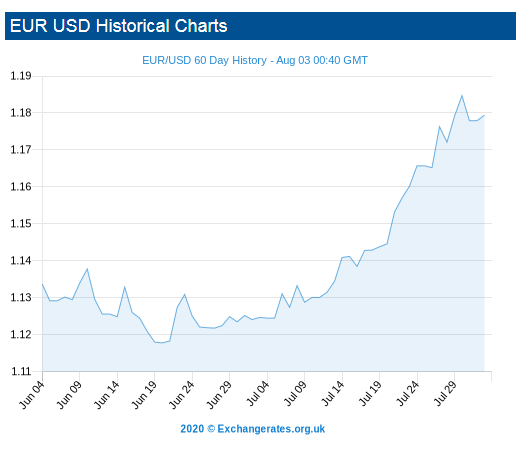 As a domainer, and business owner, it may be in your best interest to keep an eye on exchange rates, and consider listing your domains in alternate currencies, other than USD.
Article kudos: Dale G.


Copyright © 2022 DomainGang.com · All Rights Reserved.