#Domain sightings: Finally, a REAL pigeon domain in .US!
The Domain King talks about "pigeon domains" and we just came across a domain sighting of a REAL pigeon domain!
The remarkable encounter with Pigeon Freight and their domain, PigeonFreight.us, marks a rare sighting of the .US TLD.
Pigeon Freight Services Inc is a transportation company based in Illinois that was opened in 2013 by Sergiu Tintiuc, a long-time veteran of the trucking industry. […] Pigeon Freight Services now has 40 trucks and 45 trailers. 
You can read about it all at their web site.
But wait, that's not all.
The photo we took displays the tarp manufacturer's domain name, EagleTarps.com. That domain forwards to Verduyn Tarps. According to their web site:
Eagle Tarp System products include Conestoga-like rolling tarp systems that provide security and convenience. Eagle rolling tarp systems are fully customizable for any type of trailer and can save drivers up to two hours a day in tarping time.
So there you have it, two domain sightings in one, and a first REAL pigeon domain "in the wild!" 😀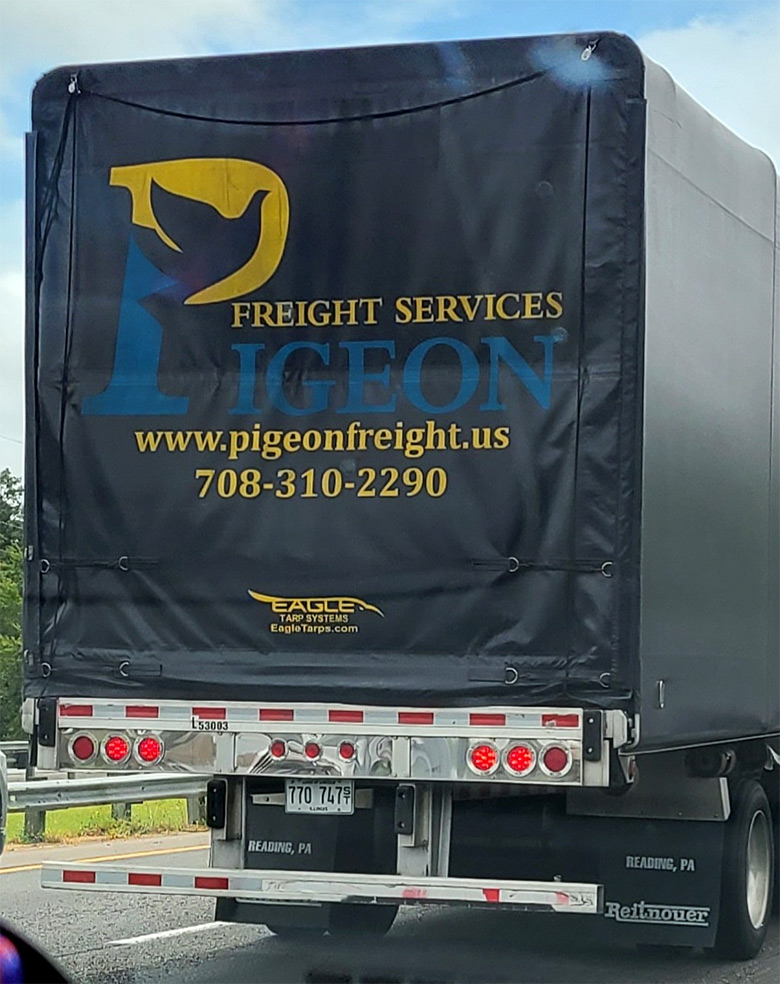 What's a "domain sighting," you may ask.
It's when we encounter domain names in the real world, that appear on vehicle wraps and signs, billboards and business signs, and product wrapping. For convenience, we group them into .com domain sightings, and other ccTLDs, gTLDs and TLDs.

Copyright © 2022 DomainGang.com · All Rights Reserved.