#Domain sightings : The 2020 #Census Bureau is using a dot .GOV
In case you forgot, 2020 is a US census year, and in the era of the Coronavirus it's great to see the process being completed electronically.
No US census employees are going to be going door to door to take your statistical information, and risk passing or getting the Covid-19 virus.
With that in mind, and having received and completed our 2020 census form online, we're sharing the physical form that arrived in the mail, as a domain sighting.
It contains the domain name MyCensus2020.GOV, which was registered in 2019.
Such domain sightings are split in two categories: dot .com sightings, and everything else. It seems that the US census bureau also registered the matching .com domain, MyCensus2020.com, in 2018. Instead of forwarding to the .GOV automatically, it displays a message to do so. Duh!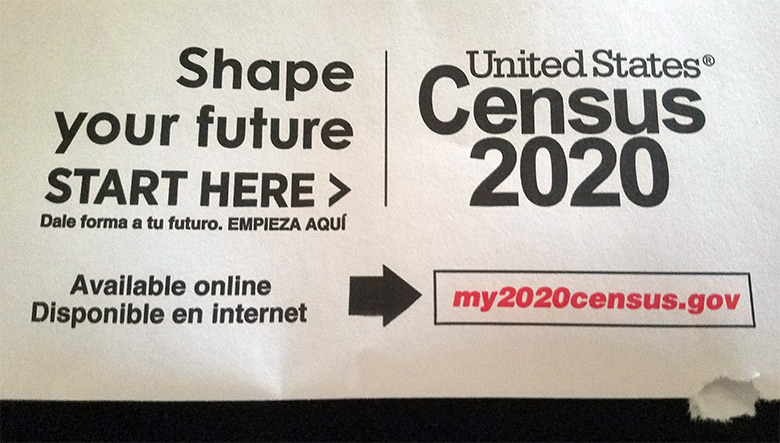 A total of 83 "census" domains appear to have been registered in 2018 by the US Census Bureau, as follows:
2020-census-form-online.com
2020-census-form-online.net
2020-census-form.com
2020-census-form.net
2020-census-survey-online.com
2020-census-survey-online.net
2020-census-survey.com
2020-census-survey.net
2020-census.com
2020-census.net
2020-us-census.com
2020censo.com
2020censo.net
2020censopr.com
2020censopr.net
2020censusform.com
2020censusform.net
2020censusformonline.com
2020censusformonline.net
2020censussurvey.com
2020censussurvey.net
2020censussurveyonline.com
2020censussurveyonline.net
census-bureau.com
census-careers.com
census-jobs.com
census-work.com
censuscareers.com
complete-census-online.com
complete-census-online.net
completecensusonline.com
completecensusonline.net
fill-in-census-online.com
fill-in-census-online.net
fill-out-census-online.com
fill-out-census-online.net
fillincensusonline.com
fillincensusonline.net
filloutcensusonline.com
filloutcensusonline.net
gomy2020census.com
micenso2020.com
micenso2020.net
my2020census.com
my2020census.gov
my2020census.net
my2020censusdesign.com
my2020censusing.com
my2020censusonline.com
my2020censusshop.com
my2020censusweb.com
mymy2020census.com
online-census-form.com
online-census-form.net
online-census-survey.com
online-census-survey.net
onlinecensusform.com
onlinecensusform.net
onlinecensussurvey.com
onlinecensussurvey.net
respond-census-online.com
respond-census-online.net
respond-census.com
respond-census.net
respond-to-census-online.com
respond-to-census-online.net
respondcensus.com
respondcensus.net
respondcensusonline.com
respondtocensusonline.com
start-census-online.com
start-census-online.net
startcensusonline.com
startcensusonline.net
themy2020census.com
us-census-bureau.com
us-census-bureau.net
us-census-careers.com
us-census-jobs.com
uscensus.net
uscensusbureau.net
uscensuscareers.com
webmy2020census.com

Copyright © 2023 DomainGang.com · All Rights Reserved.
Comments
One Response to "#Domain sightings : The 2020 #Census Bureau is using a dot .GOV"