#Domains from hell : NameJest signed pact with the devil
Domain auction platform, NameJest, signed a private, exclusive pact with the devil today, handing over its domain auctions to Lucifer's Registrar.
The business to business transaction bears the Old Nick's signature logo, twisted horns and a pronged tail above the digits "666."
"Our Valued Partners will appreciate this exclusive contract, as it's opening up the gates of monetary expansion for their auctioned portfolios," said NameJest co-founder, Bent Auver.

"We're bringing in Legions of potential buyers that would seek out to take possession of your domain auctions, for a small piece of your soul," added Bent Auver.
The agreement between NameJest and the Fallen Angel is the culmination of several years of an established relationship between the two parties; many domain investors have claimed NameJest's auctions have gone to hell in recent months.
On a positive note, NameJest dropped its domain auction fees to a flat 6.66%.
"Nonsense, pure garbage," said the co-founder, Bent Auver, adding: "Listen, you don't have to praise satan in order to keep domain names under his control, just sign and initial with your own blood and y'all be set!"
If you want to continue auctioning domains at NameJest be prepared to swallow some evil seed that bears the ICANN seal of approval.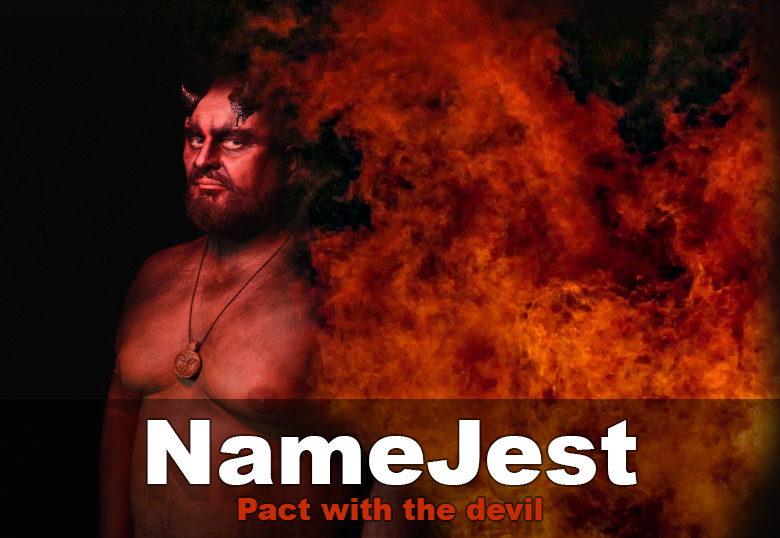 Copyright © 2021 DomainGang.com · All Rights Reserved.