#DomainTools in agreement with #GoDaddy over stunted #WHOIS ?
GoDaddy is going forward with a scandalous decision to filter WHOIS output from port 43 and third party tool queries, on January 25th.
WHOIS output on the GoDaddy web site will be supported using a captcha as an anti-spam protection mechanism; in an email, GoDaddy claimed that the draconian measure will help limit spammer's access to domain holders' personal information.
The process will make it impossible for domain owners utilizing commercial software to manage their portfolios and update their own data automatically. GoDaddy is asking anyone wishing to enable such output to "opt in" and go through a verification process.
Jumping through these hoops is rather ridiculous, and other domain bloggers, such as Konstantinos of OnlineDomain, have called out GoDaddy's most recent decision as ridiculous.
At the same time, it seems that DomainTools, a major repackager of WHOIS data information and other services, has come to an agreement with GoDaddy.
As we can see in the screenshots below, WHOIS output of domains at GoDaddy differs, when displayed via DomainTools, and via other, third party services. Third party services, such as gWHOIS and WHOIS.com display stunted WHOIS information.
We used the domain name "GoDaddy.com" in all queries: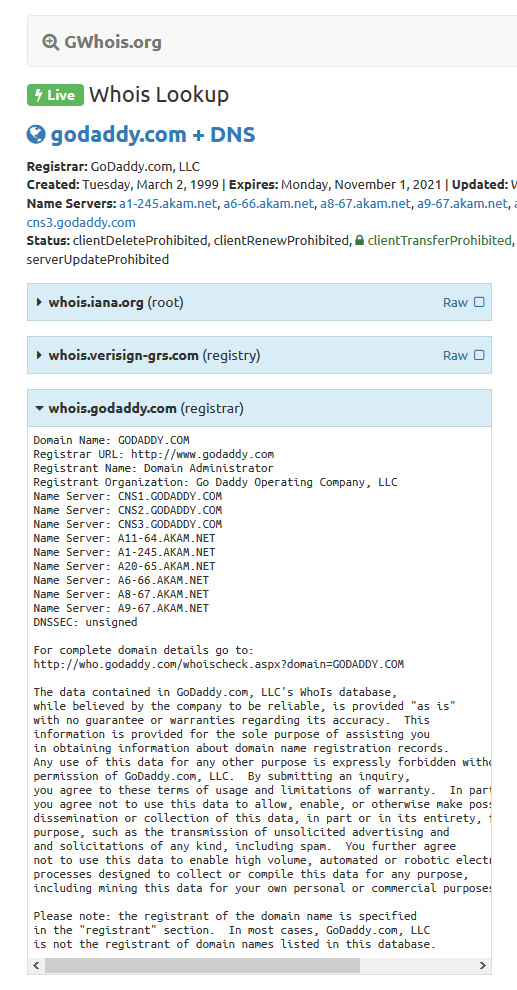 We can also see that the output from ICANN's own WHOIS is complete – but they require a captcha, just like on the GoDaddy.com homepage:

Copyright © 2023 DomainGang.com · All Rights Reserved.
Comments
4 Responses to "#DomainTools in agreement with #GoDaddy over stunted #WHOIS ?"