Dot .com #domain sightings : #Decofruit is in town
One of our hobbies is to locate and keep track of domain names on vehicles; these domain sightings fall into two main categories: .com and everything else.
Because safety comes first, when we catch one such domain we are stationary while taking a photo, at a traffic stop or light, in order to safely record the domain sighting. 😀
This time around, we came upon the Decofruit van, displaying the domain name Decofruit.com.
According to their web site:
"Decofruta is an international company, founded and based in Caracas – Venezuela on September 2005. We are dedicated to create beautiful and delightful edible fruit bouquets, mixing the beauty of a flower arrangement with the delicious taste of natural sculpted fruits. In order to make these beautiful creations, we use top fresh quality fruits such as: strawberries, pineapples, grapes, apples, cantaloupe, oranges, among many others. All our ingredients are 100% natural; we do not use any kind of colorant or chemical additives. We also follow all sanitary regulations to guarantee our customers the highest quality and freshness standards. "
An interesting tidbit: Decofruit.com redirects to Decofruta.com – the Spanish variant. Their Instagram is on @DecofruitUS.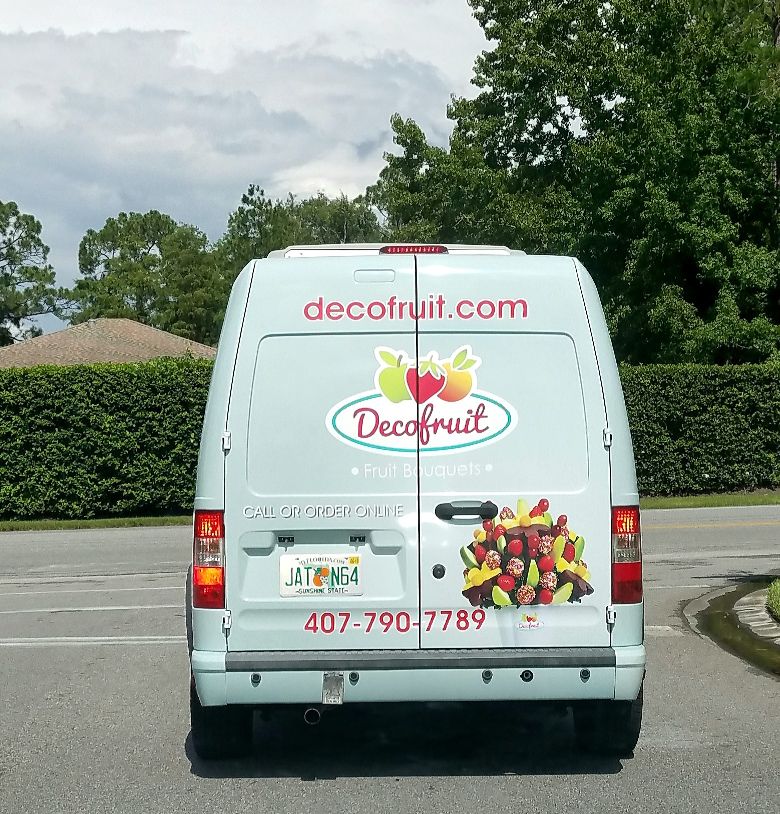 Copyright © 2022 DomainGang.com · All Rights Reserved.