#DropCatch does it again: NJD.com is the newest #LLL .com #domain on the planet!
DropCatch has done it again, grabbing the domain NJD.com after it expired and dropped. Last week, it was RXJ.com – a domain that was sold for $25,715 dollars.
The newest three letter .com (LLL) on the planet has a registration date of May 13, 2018. Originally registered in 1997, NJD.com is a premium "Chinese letters" domain, consisting of letters that aren't vowels or the letter "V."
How did NJD.com drop?
Surely its previous registrant, Mikiya Umemoto from Japan, didn't let it drop on purpose.
Mr. Umemoto was using the email address "mikiya@nn.iij4u.or.jp" to manage NJD.com, and that email is currently operated by Japanese Internet services provider, IIJmio.
Although the domain www.ii4u.or.jp responds to http requests on occasion, it forwards with a message about the integration of II4u into IIJmio, that can be seen translated from Japanese.
The transition occurred in March of 2016, according to the message, and it's quite possible that email addresses under the iij4u.or.jp domain eventually became obsolete, depriving the registrant of NJD.com from receiving notifications.  October 25, 2016 was the last time there was any content displayed at NJD.com, according to the Wayback Machine.
Mr Mikiya Umemoto has been the direct registrant of NJD.com since at least 2004. In 1997, the domain stood out as an acronym of Neo Japanese Dream, while the domain was under the control of a person named Kousaku Hayashida.
Currently, NJD.com is in a DropCatch auction, with the high bid at $21,631 dollars and two days to go.
We expect the auction for NJD.com to end above $30,000 dollars at this rate!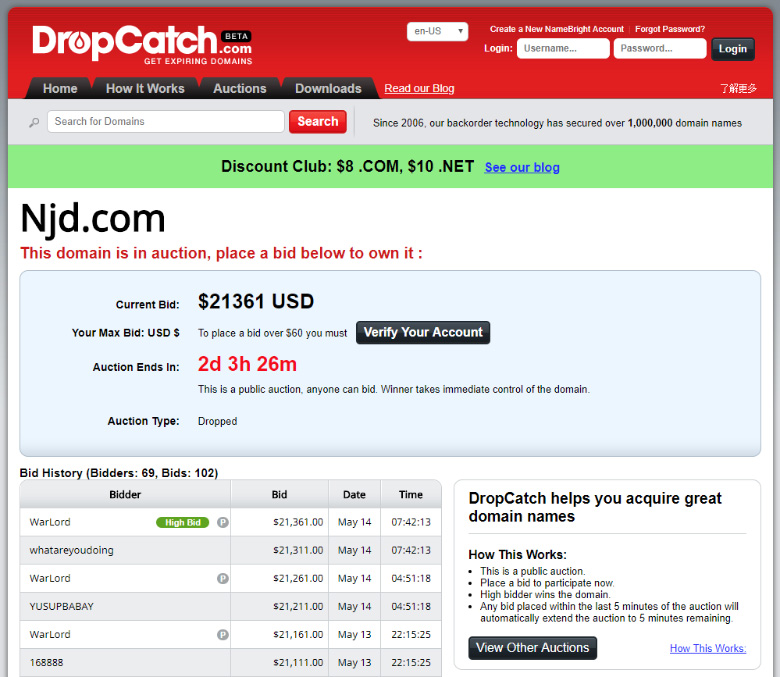 Copyright © 2021 DomainGang.com · All Rights Reserved.