Escrow.com to charge up the auction of premium #domain Batteries.com
Escrow.com will be the exclusive escrow service in the auction of Batteries.com.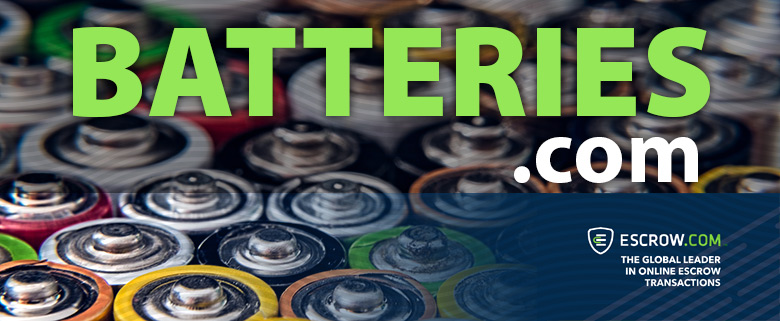 The premium, aged domain name will be hitting the chopping block via an auction that ends on Christmas Day, December 25th, 2021. Auction details can be found at WelcomeToBatteries.com.
Note: Escrow.com is a premium sponsor of DomainGang.
"Escrow.com has been facilitating the world's largest domain transactions since the company started. In 2021 alone – Escrow did 50% of transaction volume in domain, with a significant portion of those domains being "exact-match" domains such as Protein.com, Telehealth.com, and SecuritySystems.com," said Escrow.com General Manager Jackson Elsegood.
Premium exact match keyword domains – like batteries.com are what domain brokers classify as a "category killer". A domain that represents an entire vertical. Making it a prime piece of digital real estate and an investment that pays for itself.
"Owning a premium keyword domain like batteries.com – puts you in front of your competition for online search, provides instant credibility, and positions your brand as a global leader in the category. Companies that have invested in the most expensive "exact match" keyword domains have been able to dominate search rankings, save large amounts on advertising costs, and generate up to billions in revenue from owning the keyword. Making it difficult for competitors in the space to compete organically on search," added Elsegood.
Escrow.com recently celebrated safely processing $5 billion USD in transactions over 22 years of continued licensed escrow service. November 2021 was its first $1m USD revenue and $100m USD GPV month.

Copyright © 2022 DomainGang.com · All Rights Reserved.