Everyone is welcome: Domain brokerage ready to take on 80% of the pie
Do you have less than spectacular domain names and are eager—no, desperate—to sell?
Look no further than the Brewski Bros brokerage, as they are expanding their services on the blockchain.
Formed in 2014 by cousins Bruce Brewski and Bobby Brewski the brokerage is a pioneer in the domain industry. The Brewski Bros realized the importance of new gTLD domains quickly, setting up shop on Brewski.link, and have been successful since.
Using an unconventional methodology has been the modus operandi of Brewski Bros; they often pursuit domain owners whose dirty details have uncovered, to negotiate from a more advantageous point.
"We do what it takes to get your business done," says Bobby Brewski. "I have no doubt that if you come to us you've clearly been rejected by Sedo, Uniregistry, GoDaddy, Afternic, and even those monsterf*ckers, Epik. We take the biggest commission because we got the biggest balls in the industry!" exclaims Bobby Brewski.
Their latest offering is a 20% payout to the domain seller. Sounds amazing?
"By keeping 80% of the pie we grow our domain brokerage at a pace unheard before. If you're ready to do some real business, bring your pathetic domains to us and we'll show you how business is done!" says Bruce Brewski.
Don't delay, visit them today.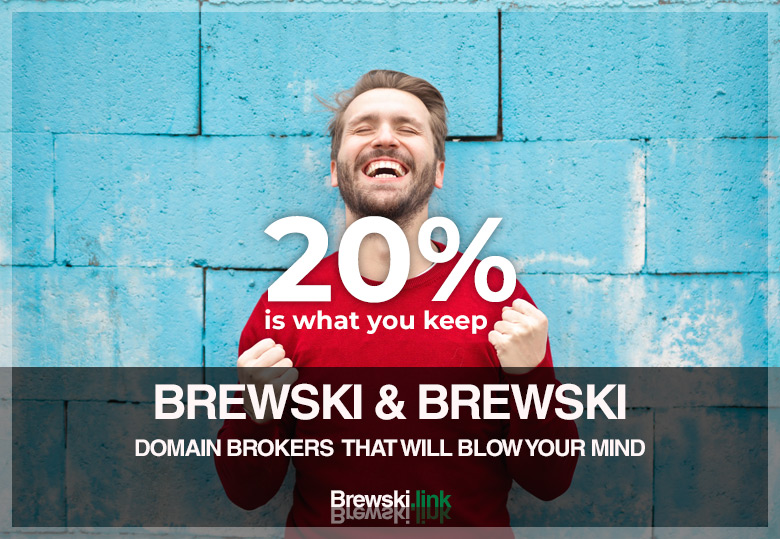 Copyright © 2022 DomainGang.com · All Rights Reserved.