#FOMASK : German single-use facial #mask shows how new #brands are made
FOMASK is a single use facial mask, created in Germany. The patent was allocated in April, along with the matching trademark.
What makes this mask stand out is its high standards in quality and production. Unlike Chinese made "face masks" this one actually offers protection from viruses, such as the Coronavirus.
According to the description:
The FOMASK is punched out of the plastic ethylene-vinyl acetate copolymer (EVA), which has been used for many years for exercise mats. At around 2 grams, the mask is extremely light and only around one millimeter thin. Nevertheless, due to the closed-cell foam, the mask is very dense and, at a cost of less than 25 cents per piece, is far cheaper than comparable disposable products. Up to 750,000 pieces can be manufactured in one day. With the smallest packaging unit of 1,800 masks, the product is intended for bulk buyers such as supermarkets or hardware stores, fitness studios and medical practices, which they have ready for their customers / patients: put on at the entrance, take off at the exit. This principle avoids that customers are supposed to carry viruses into stores with supposedly masked masks. The masks are disposed of by residue-free incineration.
The FOMASK is produced by W. KÖPP GmbH & Co. KG in Germany. The domain name FOMASK.de forwards to the Koepp.de web site. The domain was registered in early April and somehow, someone registered FOMASK.com in mid-March. For now, it seems that these are not related.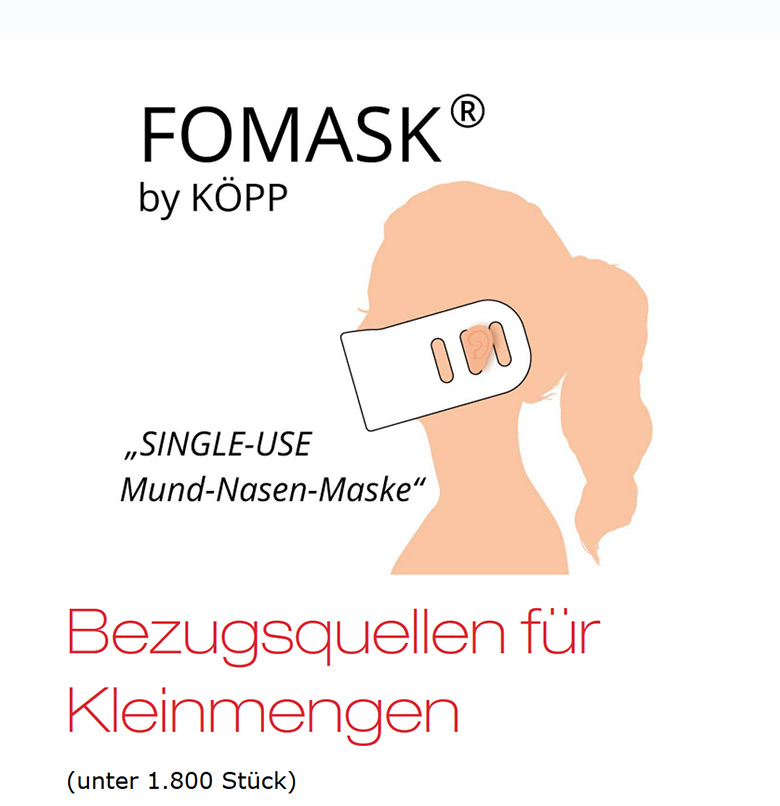 Still, the process of coming up with a new brand (FOMASK) related to a real life product (face mask) shows how easy it is to invent new names, and therefore new domain names.
Here's a description of the process:
The patent attorney Mario Wagner had the idea for the mask. The implementation with the traditional company Köpp, which also comes from Aachen, took place at a record-breaking pace: From the idea to mass production, it only took three days, as can be seen on the impressive timeline of the Köpp company website. At the beginning of April the patent attorney and the company made contact, on April 17 there were already 1 MIO. Masks sold! And they are also used in the university library – at the moment only by the staff, but hopefully soon in our public areas.
Read more about the FOMASK here.
Link kudos: Christian Voss / Sedo.

Copyright © 2022 DomainGang.com · All Rights Reserved.