FTX scandal: GoDaddy on the list of creditors
The FTX scandal is unraveling daily, with the troubled crypto company once valued in the billions of dollars going through bankruptcy.
The list of creditors of FTX was released last week and among them are some big names: Apple, Microsoft, Alibaba, Coinbase, and others, are claiming a minimum of $3.1 billion dollars.
With more than 1 million individual creditors whose names were not included in the list, the amount owed is inconclusive.
From the domain industry, GoDaddy is listed as well, presumably for services that might involve domain registrations, renewals, web hosting and related services. A tweet by the FTX founder from October 2022, before the scandal broke, mentions GoDaddy and hosting.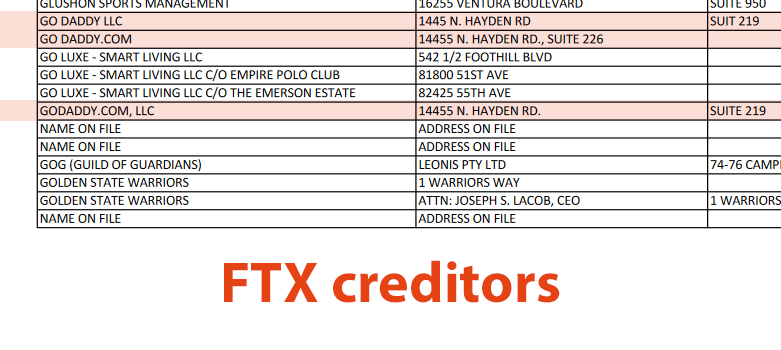 It's not clear how much money FTX owes GoDaddy but such a loss should probably be included in the upcoming Q4/2022 and annual financial earnings scheduled for February 14th.
Copyright © 2023 DomainGang.com · All Rights Reserved.
Comments
One Response to "FTX scandal: GoDaddy on the list of creditors"