#GEW announcement : Global #Entrepreneurship Week kicks off today with dot .CO #domain names
Dot .CO is a mature, widely used TLD that operates globally, and it's being managed by Neustar, our kind sponsors.
We received news of a global event for entrepreneurs, called Global Entrepreneurship Week which takes place from November 18-24, 2019, across 170+ countries, spanning more than 10 million people and 35,000 individual campaigns.
Dot .CO is hosting its own campaign for GEW from ProudToBe.CO and here are the details: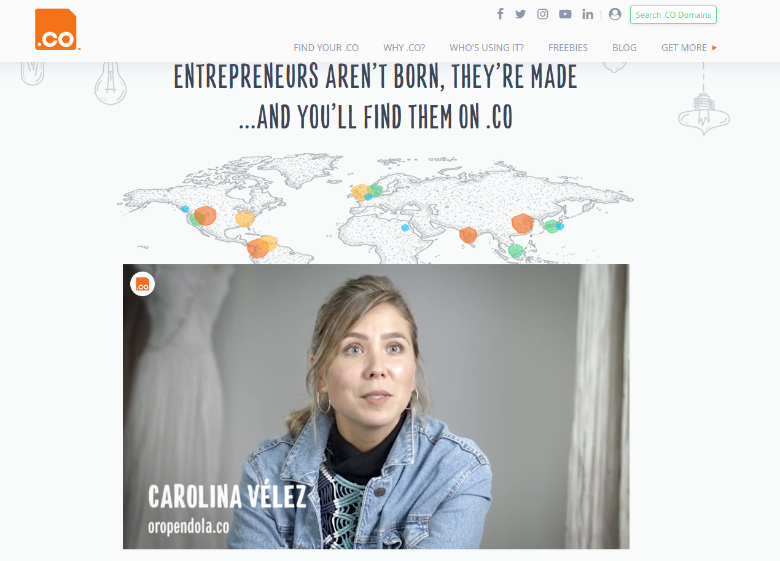 Global Entrepreneurship Week (GEW), the world's largest celebration of entrepreneurship, kicks off today – and so too does the latest .CO annual worldwide campaign in support of GEW and the creators, innovators and entrepreneurs who hustle hard every day to bring their big ideas and dreams to life.

From November 18th through the 24th, GEW will touch the lives of more than 10 million people through 35,000 unique events, activities and competitions taking place in over 170 countries. In support of GEW, Neustar is launching a new worldwide campaign called "We Run on .CO," which shares the stories of some of the innovative, exciting startups, creatives and entrepreneurs who are building the future on .CO.

To showcase the incredible impact that the .CO top level domain has had on the global startup community, we commissioned a film crew to crisscross the world filming short micro-documentary interviews with .CO community members in some of the cities with the most thriving entrepreneurial ecosystems, including: San Francisco, London, Medellin, New Delhi, Melbourne and New York City. The interviews feature the stories of the founders behind some of the most interesting new startups, early stage ventures, and emerging powerhouse brands.

In all, the digital campaign will feature seven micro-documentaries, showcasing these high-impact entrepreneurs:

Oropendola.co, Medellin, Colombia
TheHustle.co, San Francisco, California
CGVentures.co, London, United Kingdom
Naina.co, New Delhi, India
CreativeCubes.co, Melbourne, Australia
And.co, New York, New York
Adaslist.co, London, United Kingdom

"We are so excited to launch the We Run on .CO campaign, highlighting the inspiring community of creators, businesses and brands who are building their ideas on the .CO global platform," said Lori Anne Wardi, VP of Branding for Neustar Registry Solutions. "More than a web utility, Colombia's .CO TLD has become a dynamic, global digital brand – a platform where the brilliant ideas of a thriving community of innovators and entrepreneurs are coming to life each and every day."

.CO is the domain for innovators and risk takers, hustling hard and turning ideas into reality. In fact, according to a global report released by Cisco Umbrella last month, .CO is the fifth most used TLD globally based on web traffic rankings.

While global giants such as Google (g.co and campus.co), Twitter (t.co) and Apple (apple.co) were early adopters of the .CO domain, "it's the new generation of startups that are staking a claim in this unique space where craftsmanship and artistry rule, diversity is key and people are the most important currency," said Kristin Johnson, Global Director of TLD Marketing at Neustar. Johnson goes on to say, "we are proud to feature some of the exciting businesses and brands that are building the future of the internet on .CO — disrupting the status quo and making their mark on the world."

The video and campaign assets will be promoted via a holistic, integrated global marketing campaign, including placement in major online publications in Colombia and worldwide including, Entrepreneur, Venture Beat, MSN and Smart Company, among others. You can view the teaser video for the We Run on .CO global campaign at proudtobe.co.

Stay tuned, as the individual micro-documentary videos will be released over the course of the next several months, and will be available for viewing on our global website at go.co.

Copyright © 2022 DomainGang.com · All Rights Reserved.