GoDaddy Q3/2022: Another billion dollar quarter
GoDaddy Inc. (NYSE: GDDY) today reported financial results for the third quarter (Q3/2022) that ended September 30, 2022. It was another billion dollar quarter for GoDaddy, the world's biggest domain registrar.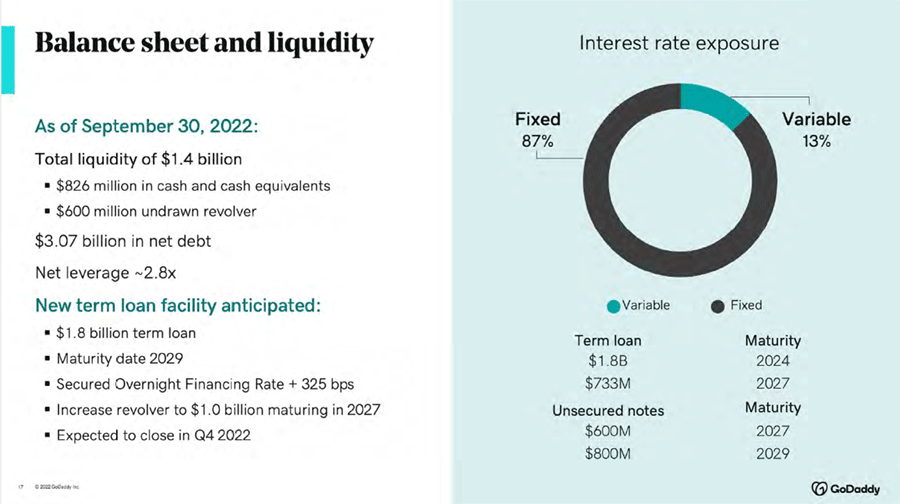 Revenue increased 7% year over year with Normalized EBITDA standing at 15% year over year. Internationally, Godaddy scored $333 million USD in revenue, a 4% annual increase.
Core platform earnings, the services component of GoDaddy that includes domain registrations and renewals, the GoDaddy domain aftermarket, and the GoDaddy Registry, saw a 5% increase year over year, bringing in $707 million dollars.
Business Highlights:
Annualized recurring revenue (ARR) for applications and commerce grew 10% year-over-year to $1.3 billion in the third quarter.
ARR for core platform grew 2% year-over-year to $2.3 billion in the third quarter.
GoDaddy drove continued positive momentum in attachment of GoDaddy Payments within Websites + Marketing and Managed WordPress.
GoDaddy achieved solid growth in its commerce offerings with gross merchandise volume (GMV) of $29 billion, up 10% year-over-year in the third quarter.
GoDaddy expanded its relationship with Amazon Web Services to continue to migrate workloads and development to the cloud. This contract reduces overall costs in the form of long-term capital spend and energy expenses while providing agility to launch new products at a faster pace.
GoDaddy added simplified website creation for domains customers through improved guidance on template selection, making it easier for them to start building an online presence, driving higher publish rates.
Buy Buttons enabled for all Websites + Marketing plans, including free plans, making it easier for nascent businesses, side-hustles, and the like to get started with GoDaddy's Commerce offerings.
GoDaddy launched free SSL in all new Web Hosting plans including in key developed countries for GoDaddy Web Hosting customers and their customers resulting in increased term lengths and modest improvements in new units and bookings in the company's hosting business.
GoDaddy appointed Brian Sharples to Chair of its Board of Directors, effective September 30, 2022. Brian has served on GoDaddy's Board of Directors since 2016.
View the Q3/2022 report.

Copyright © 2023 DomainGang.com · All Rights Reserved.