#GoDaddy reports Q3/2020 earnings that beat expectations
GoDaddy sees another quarter of 400,000+ net customer adds, topping 1 million in 2020 to date with accelerated growth in bookings and revenue in Q3.
SCOTTSDALE, Ariz., Nov. 4, 2020 /PRNewswire/ — GoDaddy Inc. (NYSE: GDDY), the company that empowers everyday entrepreneurs, today reported financial results for the third quarter ended September 30, 2020, and announced the departure of Andrew Low Ah Kee, Chief Operating Officer, who is leaving to take a President role in a different segment of the technology space.
"We are excited to announce another quarter of strong results and solid execution by our GoDaddy team. With record net new customers, and acceleration in all three product categories, we are clearly moving in the right direction. Over the last year, we have reorganized our leadership around a deep bench of extraordinary people, and it is great to have such strong performance and prospects for growth," said GoDaddy CEO Aman Bhutani.

"We are especially grateful to Andrew for the amazing contributions he's made to our organization and growth since his involvement began nearly a decade ago. We extend our heartfelt thanks and wish him the very best in his new role."

"We delivered accelerated growth in bookings and revenue this quarter along with 17% year over year growth in unlevered free cash flow," said GoDaddy CFO Ray Winborne. "Integration of the four acquisitions we've completed this year is paying off in both exciting new product capabilities and improved financial performance."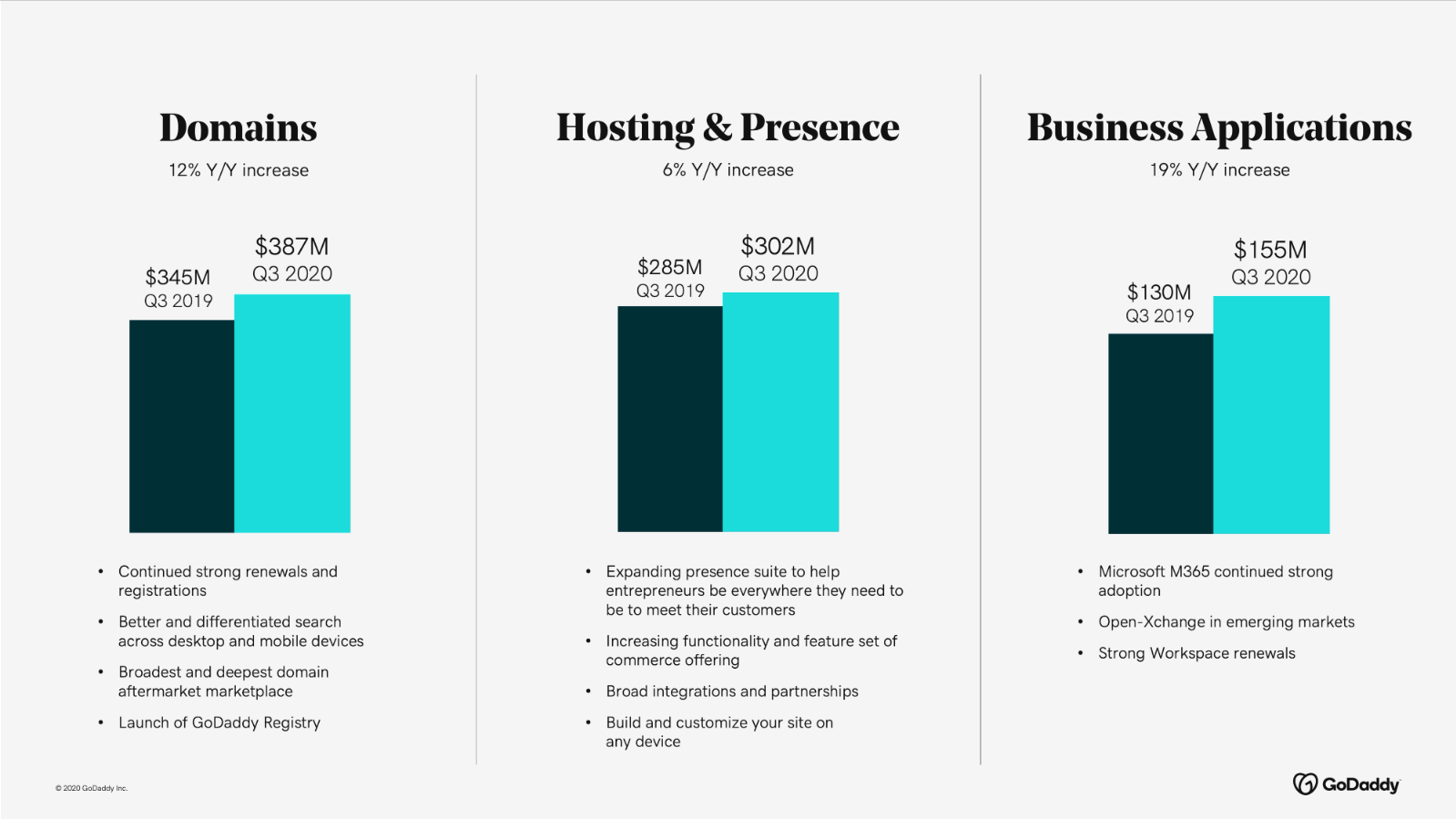 Earnings highlights:
Total revenue of $844.4 million, up 11.0% year over year, or 11.2% on a constant currency basis.
Total bookings of $945.0 million, up 11.0% year over year, or 11.2% on a constant currency basis.
Net cash provided by operating activities of $197.3 million, down 1.4% year over year.
Unlevered free cash flow of $223.9 million, up 17.0% year over year.
Domains revenue of $387.4 million, up 12.2% year over year.
Hosting and presence revenue of $302.4 million, up 6.1% year over year.
Business applications revenue of $154.6 million, up 18.7% year over year.
International revenue of $283.7 million, up 11.6% year over year, or 12.0% on a constant currency basis.
Operating Highlights:
GoDaddy added over 1 million net new customers in 2020, making it the largest nine-month increase in its net new paying customer base in the company's 23-year history.
Customers of Websites + Marketing, GoDaddy's website builder and set of marketing tools, can now create shoppable posts as well as setup Shops on both Instagram and Facebook with automatic syncing between both platforms in its E-Commerce tier, further expanding the opportunity for them to find new customers and grow sales.
GoDaddy hosted its second annual customer event, "Open 2020" in a virtual format, showcasing customers' insights and success stories and GoDaddy's tools to help them stay open and thrive online. Registration, attendance and Net Promoter Score significantly outpaced expectations.
In September, GoDaddy completed its integration of Over into Websites + Marketing, enabling anyone to easily create impactful visuals directly inside of Websites + Marketing.
In September, GoDaddy announced the acquisition of SkyVerge, a leading WooCommerce product developer with nearly 60 WooCommerce extensions spanning payments, email marketing and memberships, furthering its commitment to help entrepreneurs succeed online with high-performance stores that are feature-filled and quick to build.
In October, GoDaddy's award-winning Over app was released in 12 new languages. This further expands Over's reach, helping entrepreneurs worldwide attract new customers and grow their businesses through powerful online brands.
GoDaddy released a powerful Social Composer dashboard, giving customers a single place to create, view and schedule their social posts across all connected social media platforms and track performance metrics. Integration with the Over app powers fast and seamless social creation and allows posting everywhere GoDaddy's customers connect with their customers.
GoDaddy announced an integration between Websites + Marketing and Vimeo, enabling a simple flow for customers to upload, preview and insert videos, including using a video as a website header.
Link to the Q3/2020 earnings press release.

Copyright © 2022 DomainGang.com · All Rights Reserved.