I block all .xyz advocates
A Korean domain investor with an impressive record of .com sales is taking on what he calls ".xyz advocates" whom he blocks from interacting.
Domainer James Kim operates from BlakNames on Twitter, where he shared the following message with an obvious anti-xyz bias: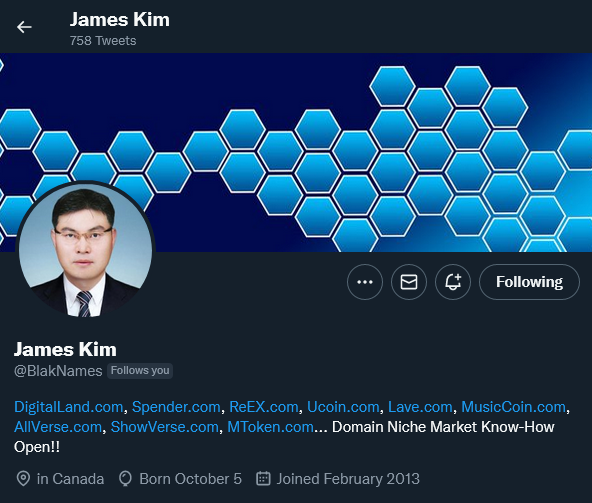 I block all .xyz advocates.


I spend a lot of time providing information to help domainers cut their losses and make wise .xyz doesn't fit my purpose of 'cutting losses and investing wisely'.


It's causing economic damage to many domainers.


The reason is that .xyz is hurting a lot of people by distorting the market with hype.


What is Hype?

Some people think that insider trading is distorting the market. In addition
They claim or agree that .xyz is better than .co and .io for the same keyword (AAABBB).
It even claims that it will overtake .com in the future.


.xyz is worse than other extensions for the same keyword (AAABBB).
The sales results for the same keyword prove it.


Anyone investing .xyz is not a problem.


It is a part that you have to bear whether you make a profit or see a loss.
I do not want my information passed on to them.


I don't want to affect my users either.


.xyz advocates are encouraged to be active in communities that love .xyz.

In recent weeks, James Kim has shared several of his domain name sales that involve cryptocurrency-related and metaverse-related keywords, which he completed for thousands of dollars.
The message appears to be encouraging segregation of pro-xyz domain investors online, something that doesn't make sense on Twitter. Obviously, anyone can block anyone on social media or publicly declare their preferred domain extensions; that freedom of speech existed long before Elon Musk took over Twitter a few weeks ago.
Domain drama involving .XYZ domains follows on the steps of an alleged conspiracy to promote .XYZ domains with fake sales and the use of proxy sellers.
Copyright © 2023 DomainGang.com · All Rights Reserved.