ImageStation.com: Sony dropped the ball on a 26 year old domain name
Sony dropped the domain ImageStation.com after holding it for more than 23 years. Registered in 1995, this is a two-word .com that was held by Sony since early 1998, acquiring it from its prior registrant.
Sony ImageStation was a service provided by Sony as an online photo service that was revolutionary at the time of its launch, September 15, 2000 in Japan. The US launch took place in June 2000:
Registering on ImageStation is free of charge. Once registered, people are entitled to upload moving and still images to the web site, storing them as a personal digital album (also free*) and to view the stored images via PC or having them delivered to friends. You can also make your digital album public or share it with people with the same interests, allowing these people to contribute their own contents to the album. This makes ImageStation an ideal communications forum. For example, you can post a collection of images from a trip like a picture gallery, or share images among members of a club you belong to.
Sony registered the ImageStation mark in 2002 but by 2007 the company closed ImageStation down:
Sony Electronics has decided to close ImageStation, its photo sharing service, in order to focus on the company's core businesses, products, and services. In the early days of digital photography Sony realized the need to provide an online photo service to support their digital camera customers. In the years since, many capable online photo services have become available and our customers now have a broad range of options for storing, sharing, printing and creating photo gifts.
It took almost another 15 years for Sony to drop the domain ImageStation.com from its possession and it was caught by DropCatch. The ongoing auction for ImageStation.com has attracted several bids with just a few hours left.
Auction bidders should be aware that although the Sony trademark is dead, there are other, live marks for ImageStation at the USPTO.
Update: The domain auction closed at $5,550 dollars.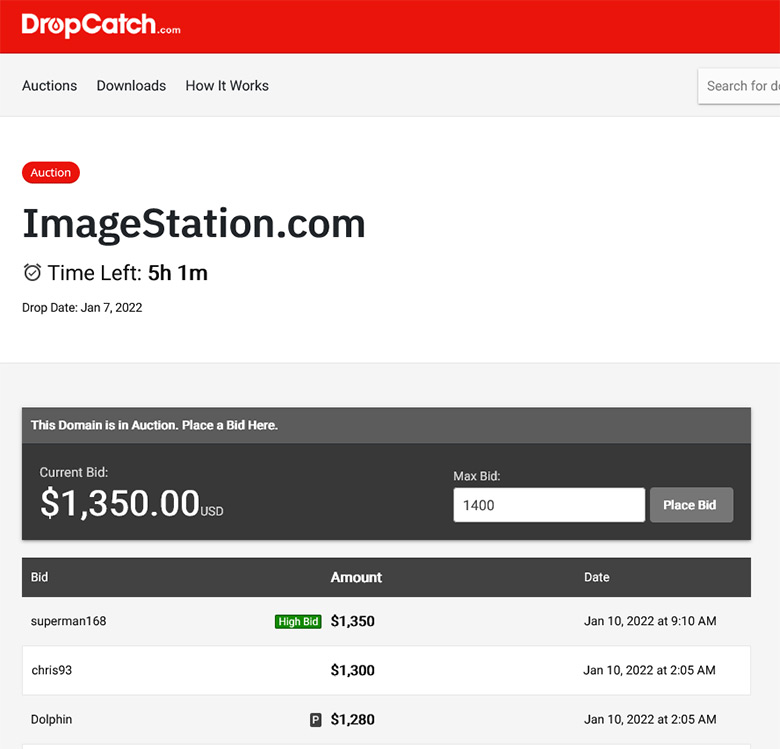 Copyright © 2023 DomainGang.com · All Rights Reserved.
Comments
One Response to "ImageStation.com: Sony dropped the ball on a 26 year old domain name"