Investors rush to register WW3 #domain names
In a stark warning to war-mongering Russia, domain investors are rushing in droves to register "WW3" domain names.
Motivated by the self-destructive attitude of Putin's authoritarian regime, domainers find the "WW3" prefix lucrative and such domains are selling like hotcakes. Traded at prices higher than some fancy NFT collectibles, domains about a World War 3 apocalypse are gaining unprecedented momentum among domainers, as it happened again 8 years ago.
"It's the latest niche market for domains, for sure, and I'm about 20% vested," says domain investor Mike Gunn from Peoria, Ill.

"Have you seen the Doomsday Clock, it's a single tick before a nuclear midnight, so now it's the time to stock up on WW3 domains!" exclaims the certified public accountant, dad of two, and part-time domain investor.
Members of busy domain forums are split between a small detail: Are "WW3" prefixes enough to establish a solid domain portfolio of World War 3 domains, or should one get the "WWIII" variant as well?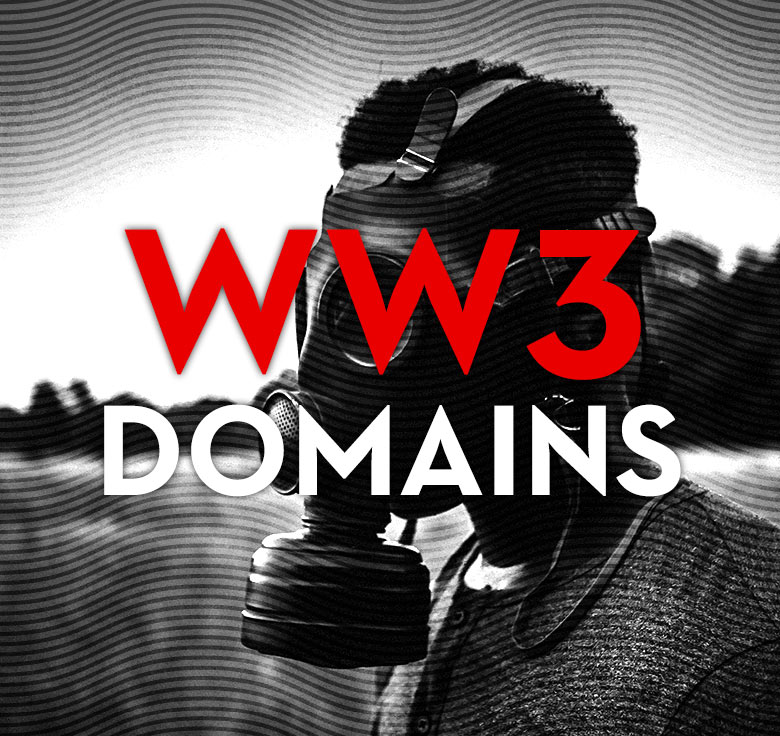 Domain historian and ancient battle expert, Alexander T. Grate, notes in a post:
"Domain investors can skip 'wwiii' for its better looking, shorter and more Web 3.0 'ww3' variant, but if you want to tap buyers with a background in world history I would recommend spending the extra $10 and getting the matching 'wwiii' .com – for other TLDs I would not bother!"
If you are stocking up on "WW3" or "WWIII" domain names, we'd love to see them.

Copyright © 2022 DomainGang.com · All Rights Reserved.