Juneteenth.com: The matching #domain of the latest federal holiday
Since 2021, Juneteenth is a federal holiday in the US commemorating the emancipation of enslaved African Americans.
It marks the anniversary of the announcement of General Order No. 3 by Union Army general Gordon Granger on June 19, 1865, proclaiming freedom for enslaved people in Texas.
Because it's a federal US holiday all federal facilities, along with banking and several private ventures are closed today, celebrating Juneteenth.
Meanwhile, the matching .com domain name, Juneteenth.com, was registered in 1996. The earliest content that we could find from Juneteenth.com is from 1998.
The domain does not seem to have changed hands since but it's currently down on and off, perhaps due to the sheer volume of people looking up "Juneteenth" in Google, or typing Juneteenth.com directly into their web browser.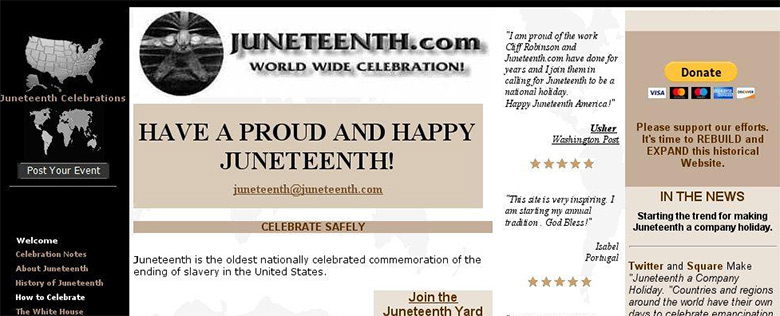 Juneeteenth is an important part of US history and as the latest federal holiday it's an opportunity to educate all Americans and the world about the important message it delivers: celebrating emancipation and freedom.

Copyright © 2022 DomainGang.com · All Rights Reserved.