LordeEdge.com: Elon Musk's new moniker just got registered as a #domain
Tesla founder, Elon Musk, pulled a fast one on the company's investors on Saturday, by stating he'd abide by the results of a Twitter poll: Should he sell 10% of his Tesla stock to pay taxes?
Musk's antics involve Tesla stock worth about $21 billion dollars; with 57.9% of the more than 3.5 million votes saying "Yes" TSLA has already dropped almost $60 dollars or 5%. That's something Tesla stock investors do not appreciate.
As the world's richest man on paper, Elon Musk continues to utilize social media as a vehicle for his corporate news and ego trips alike. He also changed his Twitter account "name" to Lorde Edge, in an apparent reference to being a master of risk-taking.
Soon enough, the matching .com domain LordeEdge.com was registered and is parked with PPC ads on Namecheap.
Would Lord(e) Edge sweep it for a few Doge coins, we wonder?
Meanwhile, the registrant of the domain LordEdge.com, registered last year after a similar tweet by Elon Musk, has just raised the asking price from $399 to $99,999 dollars. Good luck with that!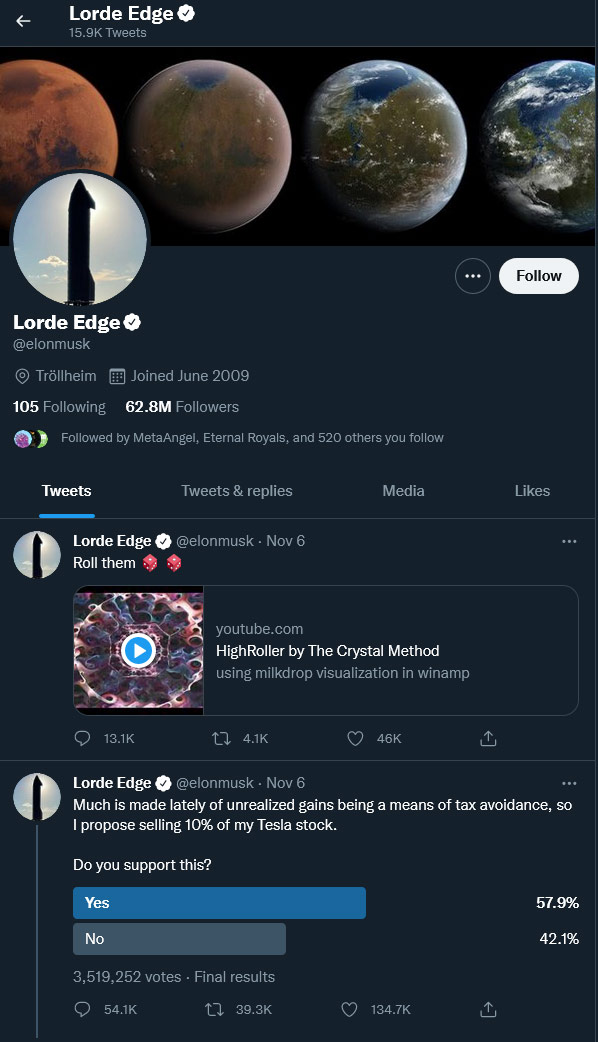 Copyright © 2022 DomainGang.com · All Rights Reserved.