NamePros rolled out free "for sale" domain landers for its members!
Leading domain investors' forum NamePros rolled out its free for-sale landers service to its members today, and it's not an April Fools' Day joke. 🙂
NamePros members can now enjoy an automated service that creates for-sale landers for domain names, providing a contact form over SSL with a tracking process. There is no fee for the service that uses a custom DNS through which domain ownership is verified. It's the same process that Dan.com uses to verify domain ownership and it's integrated into one's account at NamePros.com.
The service can be accessed from within one's NamePros account panel, or directly.  A lot of domain investors looking for an open, direct communication interface that is free to use will love the new NamePros for-sale landers.
Here are some of the benefits of the new for-sale domain landers at NamePros:
Transparency of communication via form & email
Instant (almost) setup
Perfect for small/medium portfolios
FREE to use
The color scheme of the free for-sale landers at NamePros can be customized and link to the seller's profile at NamePros. Communicating via the form provides both parties with the email address of the seller and the buyer. Buyers do not have to be NamePros members in order to place offers, but they have to verify their email address before contacting the seller via the form. This system and the Google captcha cut out most if not all spam.
Here's an example lander used for the domain name GreekCandy.com: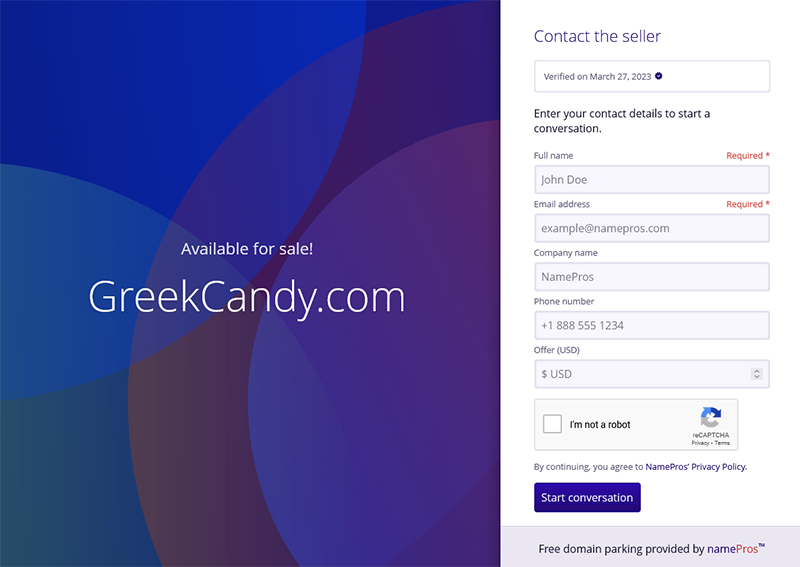 Overall, it's a great new service that lots of domain investors and members of NamePros will be using, so sign up as a new member if you're not already one!
Copyright © 2023 DomainGang.com · All Rights Reserved.