PAA.com takes the crown of the youngest three letter .com #domain in the world!
Another day, another newborn three letter .com domain: PAA.com.
The former asset of General Electric dropped, losing its original registration date of 1997. Why would General Electric—also known as GE—drop the ball on a premium, aged domain name consisting of three letters?
As late as in August of 2019, the domain PAA.com was forwarding to GetLifeSciences.com. But that same year GE sold off its bio-pharmaceutical unit for a staggering $21.4 billion dollars, $21 billion of which was in cash!
Most likely, PAA.com was caught in the wheels of transition of IP assets and someone at GE dropped the ball and the domain, eventually.
So who caught PAA.com upon dropping?
None other than DropCatch, that has a history of picking up three letter .com domains that expired and dropped, such as NJD.com, RXJ.com, KAU.com, FDJ.com, and most recently LTU.com that has not been paid for yet.
The current high bid for PAA.com at DropCatch has reached astronomical levels: $60,550 dollars on its first day of a three day auction. The letters are top notch quality and we expect it to end up being sold for six figures.
Hopefully whoever wins PAA.com at DropCatch will be a legit, paying bidder.
Update 12/9/2020: The auction for PAA.com ended at $75,050 dollars.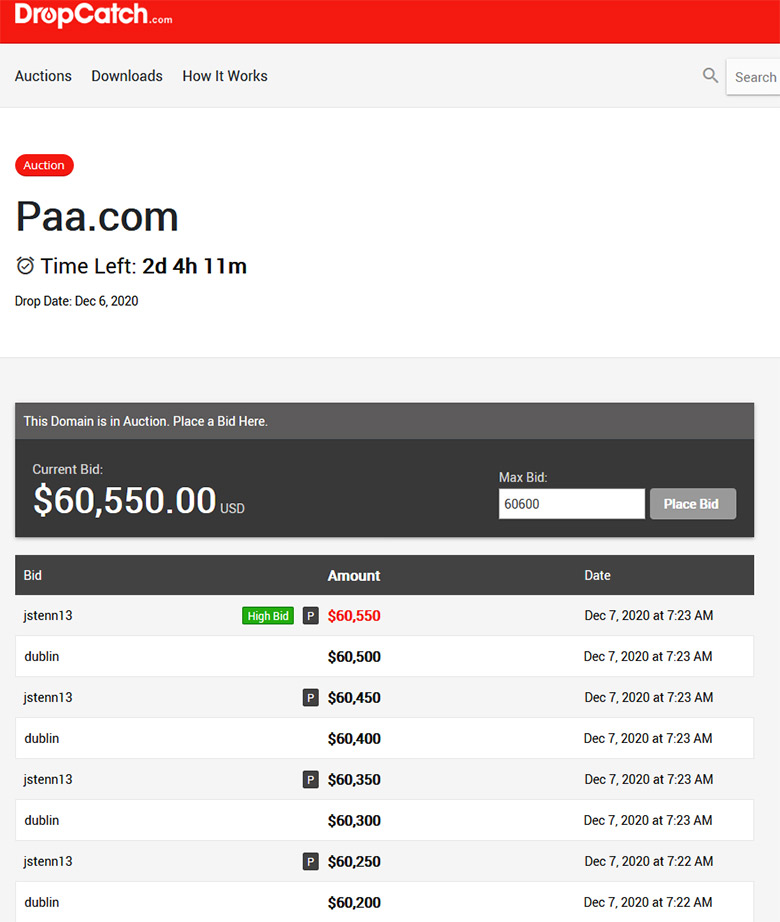 Copyright © 2022 DomainGang.com · All Rights Reserved.
Comments
One Response to "PAA.com takes the crown of the youngest three letter .com #domain in the world!"