Sad day for #IKEA .com as founder Ingvar Kamprad passed away
Ingvar Kamprad, founder of IKEA, passed away at the age of 91, after a short illness. He was born in 1926 in Småland in southern Sweden.
At the early age of 17 he founded IKEA, a business that would became his lifelong commitment. Ingvar's driving force was the vision of creating a better everyday life for many people.
As expected, the web site at IKEA.com has changed from its usual blue and gold colors, to a somber black and white tone, sharing the news of its founder's demise.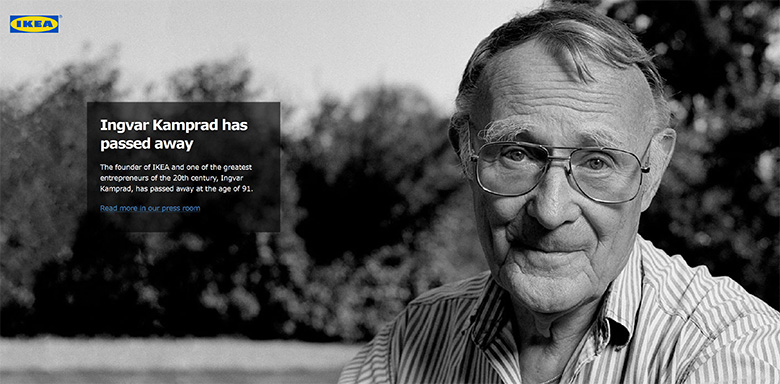 Story kudos: Mathias Baumgartner, who quoted the following on the IKEA founder's passing:
A love/hate relationship with Ikea appears to be a common experience. Those damn instructions…the missing parts…the cheap plywood…it's not the imaginary prestige of luxury which attracts us: No, it's that we assemble the products ourselves. The labor we invest makes it seem as if the product is our creation. An illusion of our own making, seemingly legitimised by the assembled result.

Our ambivalent, sometimes fragmented minds and the irrational, but predictable attachment to objects which we fantasise we're building.

This is sublime marketing.

Copyright © 2023 DomainGang.com · All Rights Reserved.