#Sedo Yodle : German engineering, crafted for #domain investors
It's the time and era of voice-assisted chore management, and Sedo is launching a new domain auction bidding assistant: Sedo Yodle.
The tiny domain voice assistant utilizes subtle yodeling commands to increase, decrease and place a bid on thousands of domain auctions available on Sedo.com.
Weighing 162 grams and measuring just 32 mm x 84 mm x 84 mm, Sedo Yodle is a play on "yodel" and the company's roots.
"As a child, I grew up climbing the Alps, for some amazing echoing that built my strong yodeling skills," said Tobias Flaitz, Sedo CEO.

"With Sedo Yodle, you only need to whisper the commands with a basic, melodic yodel, in order to get your domain bids through. It's a breeze to use!" exclaimed Flaitz, yodeling.
Here is a quick guide to the Sedo Yodle commands:
[yodel] Sedo [domain name] bid [yodel] $12000 [yodel]
[yodel] Sedo [domain name] increase bid [yodel] $100 [yodel]
[yodel] Sedo [domain name] decrease bid $20 [yodel] changed my mind [yodel]
[yodel] Sedo [domain name] go to sleep [yodel] maxed my budget [yodel]
These are just the basic commands, and dozens more are available, according to Sedo.
The Sedo Yodle features state of the art electronics design and is manufactured in Germany, under strict ISO 9001 standards.
If you want to test-drive the Sedo Yodle, send them an email at Sedo.com.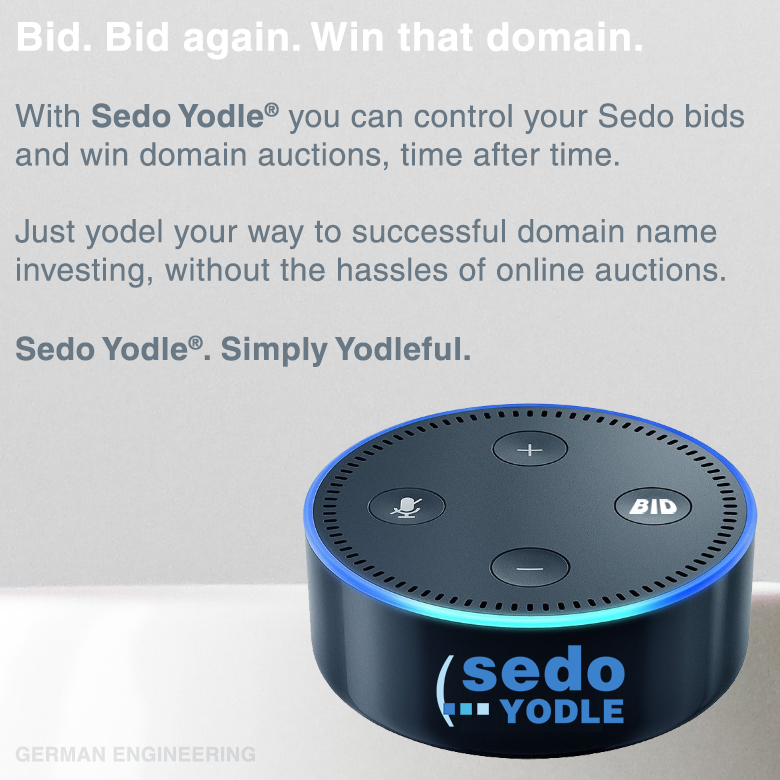 Copyright © 2021 DomainGang.com · All Rights Reserved.
Comments
One Response to "#Sedo Yodle : German engineering, crafted for #domain investors"