Seven with #Sedo : LLLL .com #domain auction begins on #Halloween
Sedo, our premium sponsor, is rolling out a huge auction of LLLL .com domains, right on Halloween! 😀
Trick or treat!
The auction offers more than 320 four letter .com domains, in many vowel and consonant combinations. The Sedo auction runs from October 31 – November 7 and it's expected to rejuvenate the LLLL .com market, once dominated by Chinese domain investors.
All domains listed on this themed auction at Sedo.com, have a reserve between 100 and 499 USD/EUR/GBP.
We have picked seven domains from that list, for this edition of "Seven with Sedo" – and this is our personal choice from a great variety of domains.
DECV.com (decv.com)
KLOT.com (klot.com)
RCRM.com (rcrm.com)
DGRP.com (dgrp.com)
EILI.com (eili.com)
ONSD.com (onsd.com)
AKWM.com (akwm.com)
We chose these domains for their overall letter quality. To peruse and participate in the Sedo auction, click here.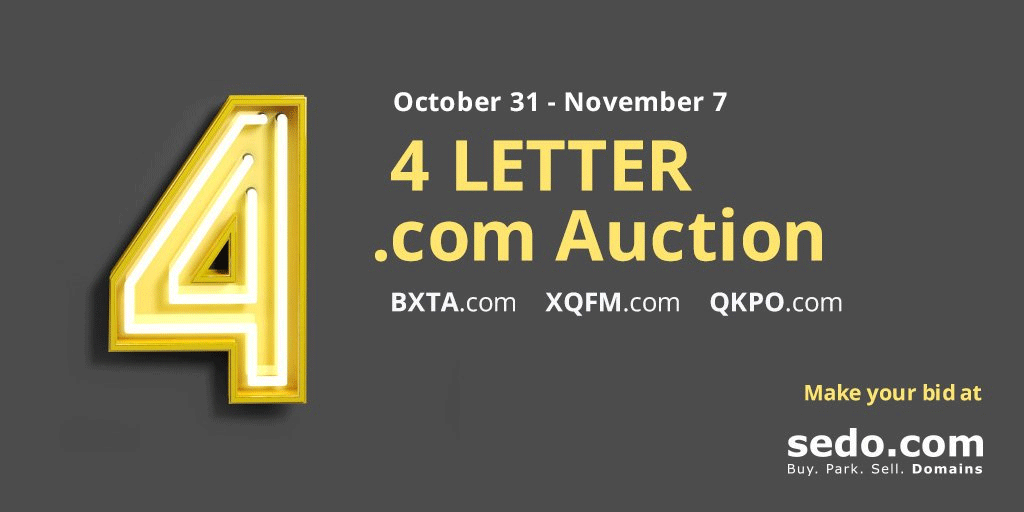 Copyright © 2022 DomainGang.com · All Rights Reserved.