Seven with #Sedo : The upcoming auction of LLLL .com #domains
Sedo, our premium sponsor, is auctioning almost 100 four letter .com domains (LLLL .com) from March 26 to April 2, featuring an eclectic selection of letter combinations.
All of these domains have a reserve price of 99 dollars (or Euro, or British Pounds.)
We have selected seven LLLL .com domains that stand out, in our opinion, from the rest.
Note: Neither Sedo, or the domains' owners influenced our opinion.
AVVV.com
UMGO.com
RGXM.com
PXIM.com
VEMR.com
OXBF.com
MGCT.com
Good luck bidding at the Sedo auction that begins tomorrow!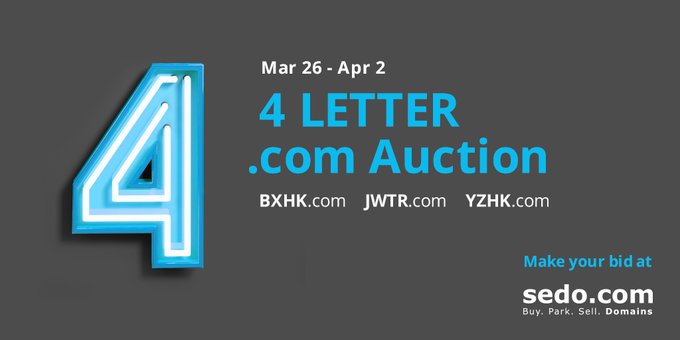 Copyright © 2022 DomainGang.com · All Rights Reserved.