Six figure sale: Estibot helped sell a #domain for $341,000 dollars!
Estibot is not particularly accurate in its valuations of domains.
In the case of entrepreneur, Cole South, Estibot helped sell a dictionary domain for a 2.73x return, ten years after spending $125,000 dollars to acquire it.
If you do the math, the selling price was $341,000 dollars. That's the Estibot valuation number, rather optimistic but still convincing. The domain's buyer is a company that offered $25,000 dollars initially, but Cole South stuck to his guns as the other party increased its offers.
It all happened very fast, says Cole South, noting that the buyer jumped to $40k, then to $200k. Cole South's poker strategy worked as the buyer agreed to the asking price of $341,000 dollars.
Less than a week later, the deal was closed. The domain generated no revenue during the 10 years it was held and Cole South is thanking his lucky stars: liquid domains are rare and in this case he was able to make a very sizable profit, after holding the proverbial bag for a decade.
Was the domain worth the $341,000 dollar selling price?
Although Cole South did not reveal the domain itself, he shared enough information for us to identify it. The domain is a single word .com and an adjective that begins with the letter "E" and if it were two letters shorter, the resulting domain would be worth seven or even eight figures USD.
What's funnier is that a year later, Estibot still values the domain at $341,000 dollars as this image shows: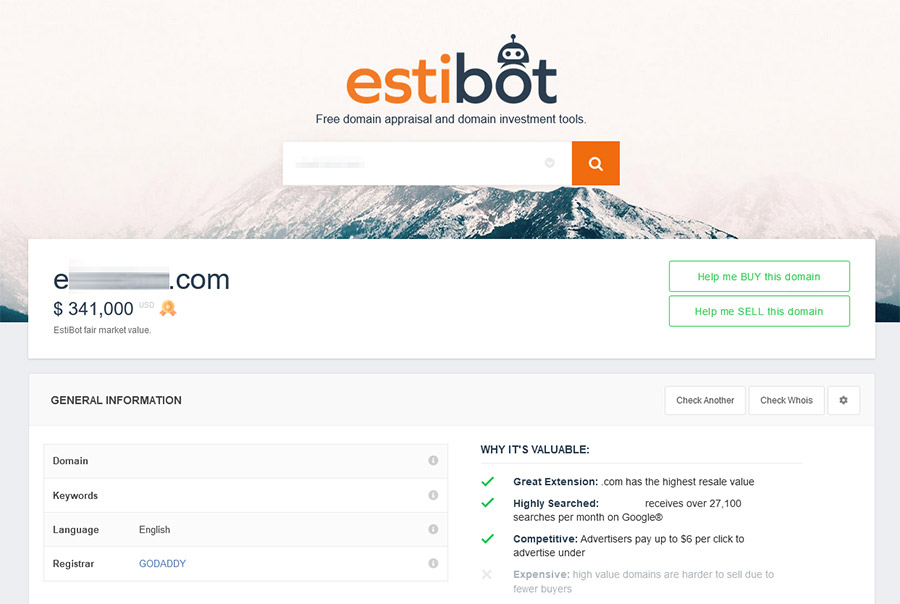 Read Cole South's exchange on Twitter.

Copyright © 2022 DomainGang.com · All Rights Reserved.
Comments
2 Responses to "Six figure sale: Estibot helped sell a #domain for $341,000 dollars!"