Skroutz.com: Why did this #domain name auction close at $6,001 dollars?
The domain auction for Skroutz.com closed at DropCatch today. The final bid was $6,001 dollars, a seemingly extraordinary amount for a domain that doesn't mean much. The winner was account holder "Dropper" at DropCatch.
We've seen domain auctions, such as that for fallen company, Monedo.com, sell for much less, so why did Skroutz.com sell for six grand?
The .com matches the 'Skroutz' keyword, which is the Greek version of eBay & Amazon combined, operating from the domain name Skroutz.gr. Skroutz was founded in 2005 by Greek entrepreneur George Chatzigeorgiou – "when a friend was interested in buying a new PC and was trying to compare prices."
In 2021, the Skroutz platform displayed more than 6 million products from more than 9,000 partner stores from all over Greece.
What the heck is Skroutz?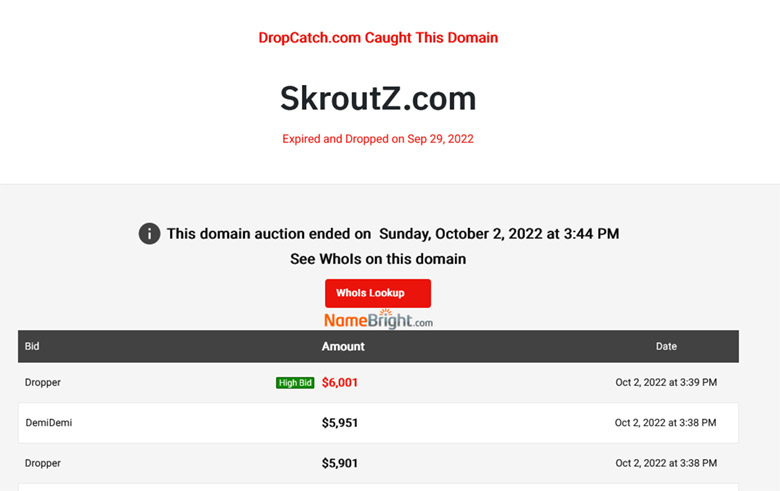 Skroutz stands for "Scrooge" as in Scrooge McDuck, the gazillionaire, stingy character created by Disney in 1947. It's the phonetic equivalent, indicating a platform that savings are in priority for the Greek consumers.
The domain Skroutz.com was registered in 2006, presumably by someone wanting to reap the Greek domain's traffic; when it dropped a few days ago, the domain Skroutz.com was at Dynadot with an expiration date of May 2024.
In 2007, Skroutz.com was getting more than 1,200 visits a month, according to this archived traffic page at Sedo.
Why would Skroutz.com drop then?
We don't know.
It could have been a legal threat or some other type of event, such as intentional deletion of the domain Skroutz.com. We'll have to wait and see who paid $6,001 dollars to get it.
Copyright © 2023 DomainGang.com · All Rights Reserved.