Spase.IO founder actually spent money acquiring a #domain name from #Afternic
Sahil Gupta, founder of Spase.io, became a controversial figure late last year after losing two UDRPs for the same domain, two months apart.
In both cases, the WIPO and NAF panelists found him guilty of Reverse Domain Name Hijacking, doubling the "honor" that no entrepreneur should wear as a badge.
During a lengthy Twitter tirade that might or might not be available still, the operator of the account @SahilAsAService berated domain owners, the purpose of selling domain names in the aftermarket, and attacked the late founder of Ms Jello LLC via comments such as this:
"What pushed me over the edge is this. Mrs Jello LLC, you've fucked with the wrong guy."
In a demonstration of abject hypocrisy, Sahil Gupta actually paid money to a domain investor, in order to acquire a domain from Afternic, in-between the two UDRP filings.
That domain was Spase.CO which currently forwards to Spase.IO.

The first UDRP was filed on July 20, 2020 at the WIPO and the second one was filed with the NAF on November 24, 2020. But on September 11, 2020 and before the first UDRP filing was denied, Sahil Gupta paid $599 dollars to acquire Spase.CO, perhaps believing that his UDRP demands would come to fruition.
That sale was not recorded by NameBio but we acquired proof from the seller, who hand-registered it in 2019 with a .CO promotional code to boot. Here is the record of sale for the domain name Spase.CO: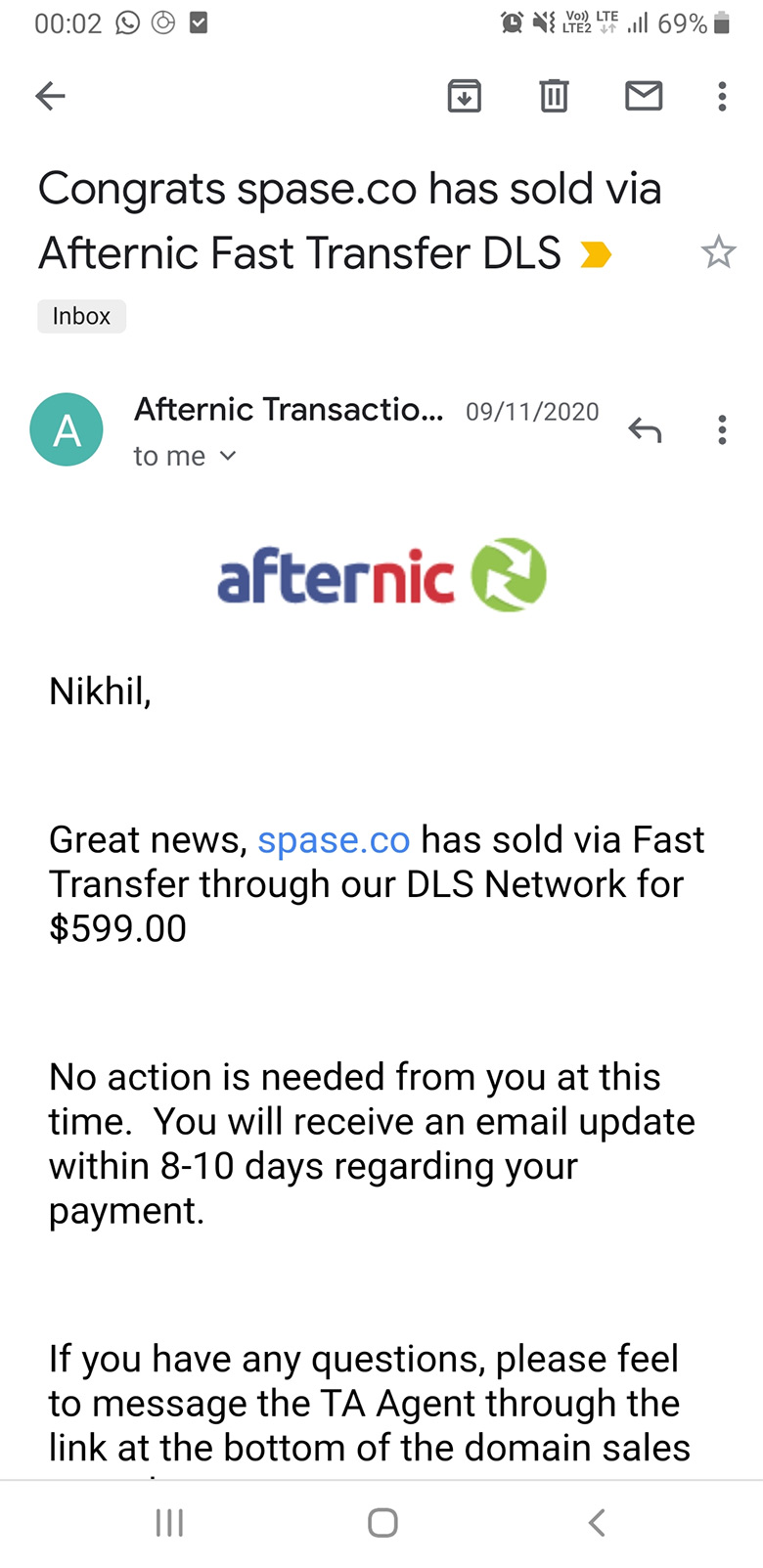 Sahil Gupta chose to spend a minimum of $3,000 dollars—the cost of filing the two UDRPs—and another $599 dollars for a second tier domain, instead of saving up for the $15,000 dollars that was the asking price for Spase.com.
Clearly, that decision wasted money and might lead to a complete .com domain rebranding for the Spase.IO company, whose CEO was found guilty of RDNH—twice.

Copyright © 2022 DomainGang.com · All Rights Reserved.
Comments
3 Responses to "Spase.IO founder actually spent money acquiring a #domain name from #Afternic"