#Web3 special: Freename offering 50% off #NFT domains and TLDs for the Christmas Holidays!
Get 50% off on NFT Domains and TLDs at Freename.io & a free Web3 domain with promo code "XMAS50" from December 19th to 31st.
Note: This is paid advertising.
Freename is the Web3 naming platform that allows users to register and mint their own unique Web3 domains and TLDs.
Get 50% off on freename.io by using the coupon code "XMAS50" valid from December 19th-31st at checkout.
Freename NFT Domains / Top Level Domains are digital assets that can be used to represent a website, business, or individuals online and have multiple functions.
One of the key benefits of using Freename platforms is that it allows users to own and control their own web3 domain, rather than relying on traditional web hosting providers, meaning that users can buy once and own it forever!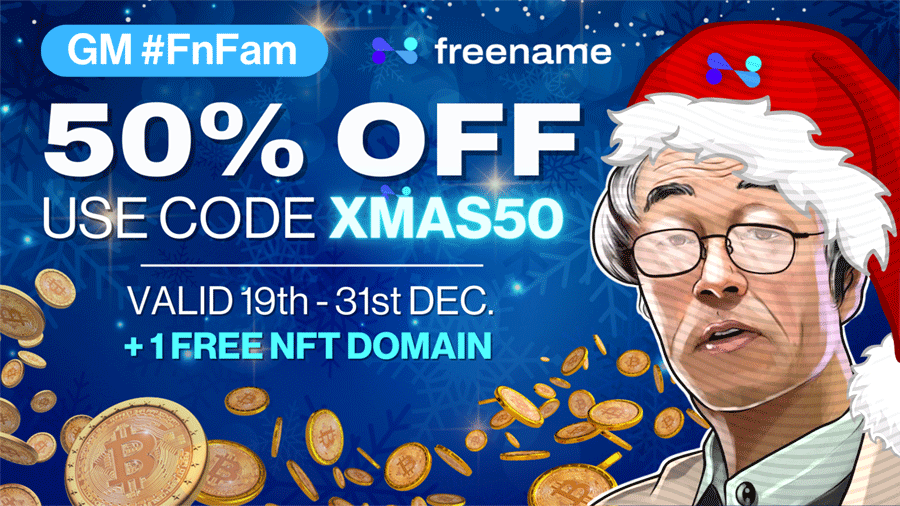 Also web3 domains have multiple functions as, set their own domain name as digital identity, can be used as metaverse avatars, have multiple purposes as connecting more crypto wallets, email function, host websites and even transfer ownership of their domain to others as regular NFTs and many more features to come as integrations are made over time.
With Freename, you can own and control your own web3 domain, rather than relying on traditional web hosting providers, as these web3 assets don't need any renewal fees or leasing fees, once bought they're yours forever.
The advantages aren't even done yet as you can even generate passive income with Royalties and become yourself a Registrar by owning TLDs and promoting them in order to welcome more users to register domains.
In fact as a web3 registrar, every time a domain is registered on your TLD, you will earn 50% of their registration fee.
To thank the web3 community we would like to invite you all to take advantage of the Christmas promotion, simply visit the freename.io platform, use the promo code "XMAS50" at checkout and every item in your cart will be discounted by 50%.
The coupon is valid for multiple purchases and by making even a single purchase during the holiday season, you'll have the chance to receive a valuable, randomly assigned NFT domain registered on ".HODL".
Said NFT Domain will be a gift to whoever believes in Freename's vision and in Web3!
The domain on ".HODL" will be directly air-dropped to personal accounts in the Freename platform on the first week of January.
Start the new year off right by building and growing your online presence with a unique, digital asset.
Don't miss out on this limited-time offer – visit freename.io and use promo code "XMAS50" at checkout to save 50% and get a free Web3 domain on ".HODL".
Copyright © 2023 DomainGang.com · All Rights Reserved.