Does Tom Brady own the #domain name TomBrady.com?
Tom Brady, or Thomas Edward Patrick Brady Jr., is an American football quarterback for the Tampa Bay Buccaneers of the NFL. He spent his first 20 seasons with the New England Patriots, where he was a central contributor to the franchise's dynasty from 2001 to 2019.
The record-setting quarterback is known among other stats for his Super Bowl trophies and MVP status.
But does Tom Brady own the matching .com domain name of his brand/name, TomBrady.com? Let's take a look.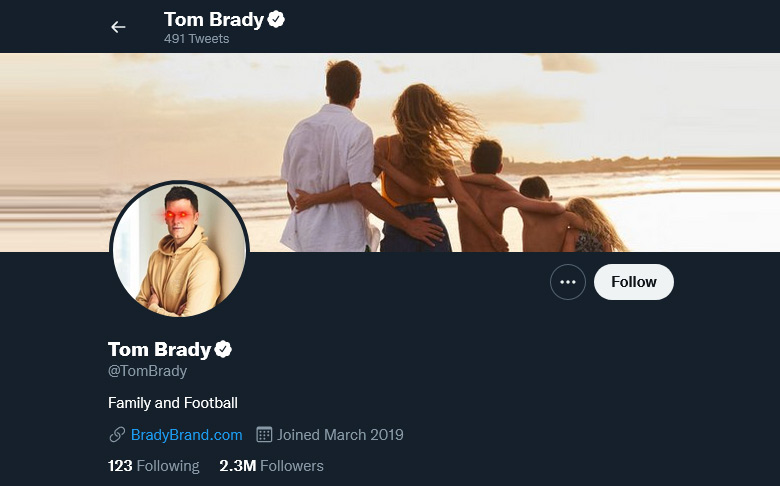 The domain is currently being forwarded to the athlete's Facebook page. That in itself is a tremendous waste of potential! It's a quick indication that the domain might not be under Tom Brady's control and it serves as a quick, temporary URL redirect, by whoever operates it.
Let's drill down a bit further.
Tom Brady's Twitter account lists a different domain, BradyBrand.com. That domain points to a developed web site featuring Tom Brady's entrepreneurial outfit, featuring sports gear. While TomBrady.com was registered in 2001, BradyBrand.com was registered in 2020.
Let's dig into the WHOIS data of TomBrady.com, courtesy of DomainTools. Data from 2004 to 2007 is redacted, ranging from completely removed to hidden behind WHOIS privacy. But in 2008, WHOIS data from TomBrady.com show that the domain was listed with Sedo nameservers, indicating that the domain was parked and for sale at Sedo.
Later in 2008, TomBrady.com moves under the management of TEB Capital Management, Inc., a Massachusetts corporation. A quick search reveals that the company was formed in May 2002 with "Thomas E. Brady" listed as the president.
Bingo!
We can safely assume that the domain TomBrady.com was acquired by Tom Brady's company in 2008, potentially via Sedo.com. There are no records of a transaction or sale for TomBrady.com.
And now for the fun part: Despite a creation date of 2001, the domain TomBrady.com actually existed in 2000, perhaps as early as in 1994! The proof can be viewed in an Archive.org copy of the web site from 2000, listing a "Tom Brady," managing director of Net Data Systems as the domain's operator.
Will Tom Brady retire in the coming days?
We have no idea but without a doubt he's the greatest quarterback of all time.
Copyright © 2023 DomainGang.com · All Rights Reserved.