DomainMoney.com: It's all about the #crypto and the money
According to a press release, Adam Dell, the former head of product at Marcus Goldman Sachs, launched Domain Money—a new crypto and stocks platform to "empower investors of all levels of expertise to generate better outcomes through access to the emerging crypto revolution."
Domain Money announced in the release that it has raised $33 million from big-name investors including Bessemer Venture Partners, Maveron, RRE Ventures, SV Angel, Marc Benioff, Joe Lonsdale, and Elisha Wiesel.
"Domain Money's mission is to build our customer's wealth," said Mr. Dell. "Our team utilizes time-tested investment strategies to build diversified growth-oriented portfolios for new and seasoned investors alike."
But Domain Money is all about the (crypto) money and not about domain names.
The use of "domain" term is a general reference to a sphere of control and influence. On the other hand, the domain DomainMoney.com is definitely the best option for the "Domain Money" brand; incidentally, someone also runs Domain.Money.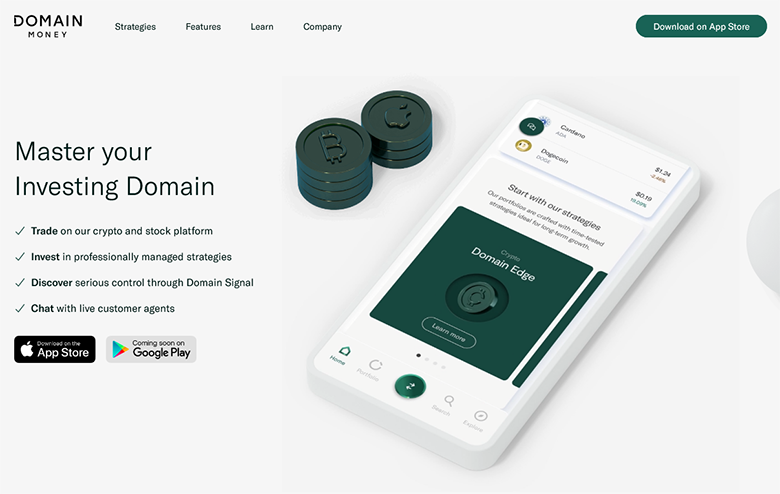 Registered in 2001, DomainMoney.com appears to have been parked with PPC ads and a "for sale at Afternic" sign most of its life.
Initially, it was under the control of NetHoldings .com Inc.,. a Georgia company founded by Mr. Harvey Kaplan.
At the end of 2012, the domain was moved in the possession of a registrant in China but seems to have maintained the "netholdings.com" email addresses as part of the Admin and Tech contacts. In recent years, the domain's WHOIS information was redacted for privacy, with the locale remaining China.
On or around May 31, 2001, the domain DomainMoney.com moved under the control of its current registrant, Domain Money, New York.
It's plausible that the New York based company Domain Money acquired DomainMoney.com for a substantial amount of money, that could have involved crypto. There is no additional information at this time regarding the financials of the transaction, but we might find out in the future.
Copyright © 2023 DomainGang.com · All Rights Reserved.