Escrow.com handles upcoming public #domain sale of Clothing.com
Escrow.com is handling the upcoming sale of Clothing.com, anticipating its classification as one of the top domain sales of all time.
Note: Escrow.com is a premium sponsor of DomainGang.
Jackson Elsegood, General Manager of Escrow.com said:
"Category killer domain sales are rarely public. I'm confident that Clothing.com could easily be positioned among the top all time highest public sales in the domain industry, and its buyer will have an incredible asset going forward. We're pleased that Clothing.com stakeholders and CEO, and TrueNorth IP have chosen Escrow.com to secure this potential multimillion dollar transaction."
James Trueman, a globally recognized expert in intellectual property and the CEO of TrueNorth IP, Inc., stated:
"Clothing.com can produce substantial financial and strategic value to the new owner and be an enduring source of competitive advantage. It also has the potential to be used as a platform to generate substantial incremental revenue rapidly while saving the buyer millions in marketing and branding expenses."

"The combination of the large size of the clothing category, the category-defining name, and increasing digital penetration is leading Clothing.com into the ranks of a small handful of the most valuable domains in the world worth a minimum of $15 million, which includes Voice.com," he concluded.
Previously, Escrow.com secured the auction of a similar major category-defining domain name, Fashion.com, which had a reserve price of US$10 million and was successfully sold above reserve. At the time it was speculated that the sale of Fashion.com could break the US$30 million record held by the sale of Voice.com.
For more information visit Clothing.com.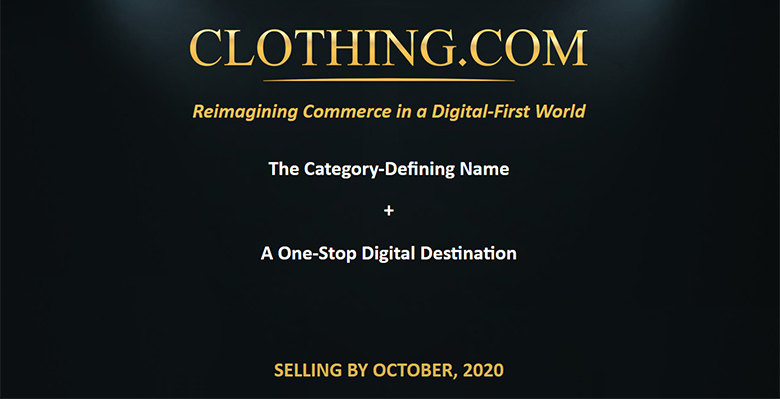 Copyright © 2021 DomainGang.com · All Rights Reserved.