Escrow.com released its Q1/2021 Domain Investment Index
Escrow.com, the quintessential escrow service for asset transactions that include domain names, released its quarterly results.
The latest Domain Investment Index report covers Q1 of 2021, the first fiscal quarter of the year. It's great to see analytical domain stats and figures from Escrow.com, a DomainGang sponsor, so early in 2021.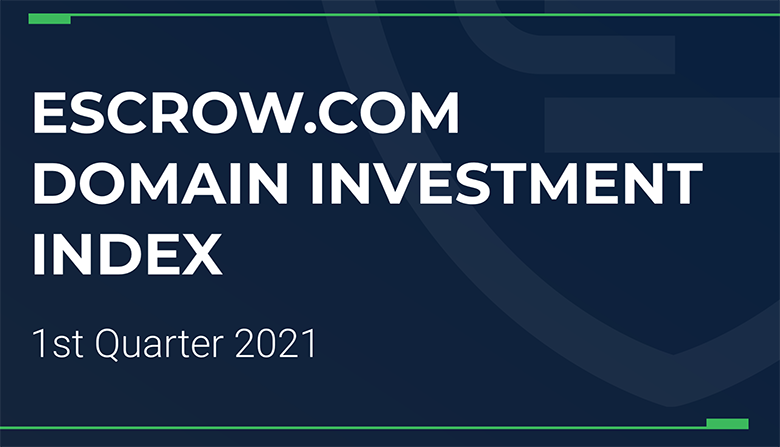 According to the Escrow.com report, the market for domain names is stronger than ever. As the US macroeconomic outlook improves, the domain name aftermarket is improving right along with it, surpassing even pre-pandemic levels.
Q1 2021 trading volume was led by sales of a record number of large domain name portfolios as well as sales of high value individual domain names. As large businesses continue to invest in their digital-first sales channels and online branding, 2021 is looking to set a new high-water mark for the domain name aftermarket.
Total domain name transaction amount continues to increase its upward trend from Q4 2020, ending at $110m in Q1 2021.
The majority of the increase in volume comes from the US where total transactions increased to from $58 million in Q3 to $77.9 million in Q4. China however has dropped from $9.2 million to$4.3 million​.
Majority of the surge remains to be involving a party residing within the US where volume increased from $77.9 million to $89.6 million. Another notable increase is from parties in China which increased from $4.3 million to $6.9 million.
Median price returns compared to 2020 Q4 at 16.67%is relatively smaller this time around however at 2.8% in 2021 Q1.
Two and three character .com domain name median price drops to $251.9k in 2021 Q1.
View or download the full Domain Index Report from Escrow.com.

Copyright © 2021 DomainGang.com · All Rights Reserved.