New high scores at the #Uniregistry "jumping chicken" game!
Visitors to Uniregistry.com have achieved new high scores, on its popular jumping chicken game.
The browser game consists of a chicken avoiding obstacles, and is controlled with the space bar of the keyboard.
Uniregistry has been installing "shiny new code" currently, and while the downtime of the services is temporary, many domain investors took advantage of that.
"I scored 3,508 before giving up the ghost," said Uni founder, Frank Schilling, who plays the game of chicken often.

"The guys at Uni are working non-stop to improve our services, but I gotta tell you, I asked them to wait until I could beat my previous high score of 3,477 points," said Schilling, smiling.
If you have a better score at the Uniregistry jumping chicken game, post it below. Ours is a paltry 876.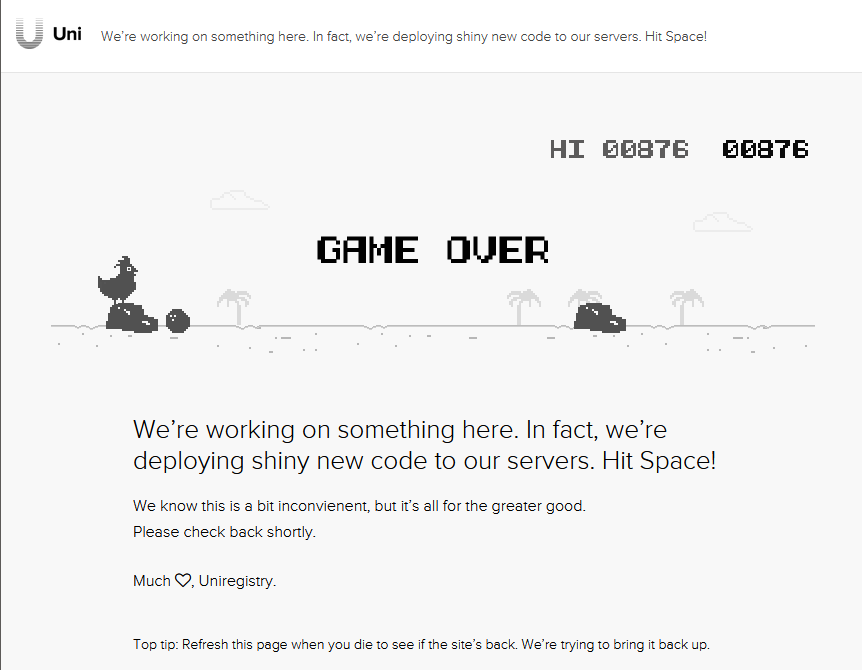 Copyright © 2021 DomainGang.com · All Rights Reserved.
Comments
5 Responses to "New high scores at the #Uniregistry "jumping chicken" game!"