Domain shadowing: An emerging threat used by cybercriminals
To cybersecurity experts, domain shadowing has emerged as a significant threat. Cybercriminals exploit legitimate domain names to carry out malicious activities while staying under the radar.
Domain shadowing is a technique that cybercriminals use to secretly create and control subdomains under a legitimate domain, without the owner's knowledge or consent. This tactic has become a significant concern for DNS experts and brand managers.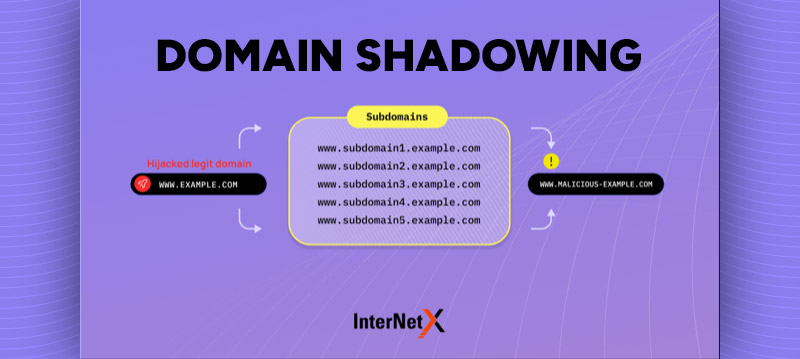 By gaining unauthorized access to a domain's DNS settings or domain registration accounts, often via phishing or credential stuffing, hackers can create a network of malicious subdomains. This approach allows threat actors to bypass traditional security measures, hinder domain takedown processes and make it difficult for security researchers to track their infrastructure.
Recently published research by Palo Alto Networks' Unit 42 reveals a shocking 12,197 instances of domain shadowing taking place between April and June 2022, highlighting the widespread nature of this issue.
This article by Simone Catania, Global Content & Communications Manager of InterNetX, aims to explore the intricacies of domain shadowing, including how hackers use legitimate domains to create malicious subdomains, evade detection, and hinder takedown efforts.
Additionally, it provides practical tips and countermeasures to help individuals and organizations detect and prevent such attacks, ensuring the security of their domains. By understanding this deceptive tactic, domain owners can keep their domains safe against cybercriminals' malicious activities.
Copyright © 2023 DomainGang.com · All Rights Reserved.