Rooms2Go.com: How a typo cost the furniture store its #domain name
Rooms To Go is an American furniture store chain founded in September 1990 by Jeffrey and Morty Seaman. Rooms To Go is the 3rd largest furniture retailer in the US.
Operating from the domain RoomsToGo.com the company is known for offering multi-year, no interest payment plans on its furniture.
The company uses a stylized, colorful logo that is distinct and memorable. While "Rooms To Go" is the proper name, many would type it in as "Rooms2Go."
The alternate writing makes sense; on the internet, anything shorter saves people typing time and the ambiguity of RoomsToGo vs. Rooms2Go creates a problem.
The domain name RoomsToGo.com was registered in 1996 and it's been in use since. A little known fact is that the company was in the possession of the differently spelled domain, Rooms2Go.com as early as in 1999.
Here is a capture from May 2001, when web sites were designed for screens at 640 pixels wide: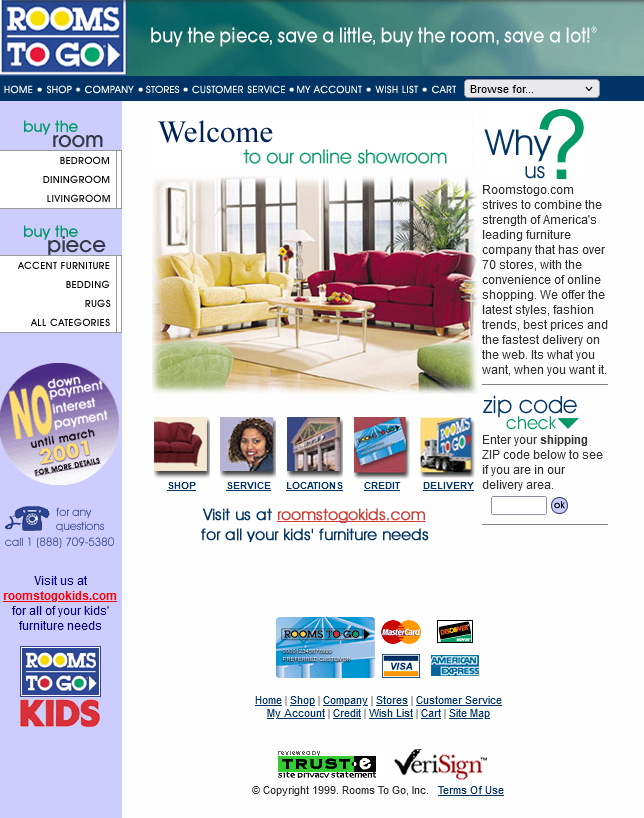 The earliest WHOIS records show that the domain Rooms2Go.com was kept for a couple of years by Rooms To Go and then dropped. Why would the company lose control of only its second biggest domain asset?
At the time, companies utilized Administrative and Technical contacts to maintain their domains and web sites. It seems that a small typo in the email of these contacts created an unreachable address: josh@fasterconnnection.com.
If you missed that extra "n" you are not alone; Josh missed it as well. It's quite possible that renewal emails bounced and the domain was lost. Meanwhile, the domain FasterConnection.com (properly spelled) was saved from expiration, despite sharing the same misspelled Admin contact, only because the Technical contact was a different email address.
Isn't domain maintenance a fun job? 😀

Back to Rooms2Go.com; the domain is now in a DropCatch auction closing today. If you feel like bidding, consider that there are several registered marks for "ROOMS TO GO" since the 1990s and 2000s and on top of that, the company is the original registrant of the domain name.
Update: The auction closed at $1,800 dollars.
Copyright © 2023 DomainGang.com · All Rights Reserved.
Comments
One Response to "Rooms2Go.com: How a typo cost the furniture store its #domain name"