Saurus.com : #Domain was sold twice before becoming a brand after 25 years!
Almost a year ago, the domain Saurus.com was sold at GoDaddy for $5,100 dollars. Considering this is a 25 year old domain name registered in 1995, that was a cheap sale.
But there's more.
Here's some interesting information about the domain's past that we uncovered.
Saurus.com was registered on December 29, 1995 by Dino Konstantopoulos of Saurus Scientific, a company based in Brookline, Massachusetts. The domain used Saugus.net as its DNS provider, a local provider in Saugus, Massachusetts.
From other sources, Saurus Scientific appears to have been a legal services provider based in Lexington, Massachusetts. There are no archived web pages from that era.
Registered with Network Solutions, Saurus.com expired at the end of 2005 and it was drop-caught by a Russian registrant who kept the domain for a full decade.
In 2015 the domain was sold at Sedo for $7,000 dollars to a Japanese registrant. It remained in their possession until the domain wasn't renewed in late 2019 and was auctioned off at GoDaddy.
The domain appears to have been acquired by Santos Capital OU, a financial company based in Estonia. Approximately six months later, it moved in the possession of Rewire Holding Ltd., a British fintech company based in London, UK. Its founder appears to be of Spanish origin.
Saurus.com has now been launched as a provider of money-transferring applications aimed at consumers. Their web site at Saurus.com is bilingual, in English and Spanish.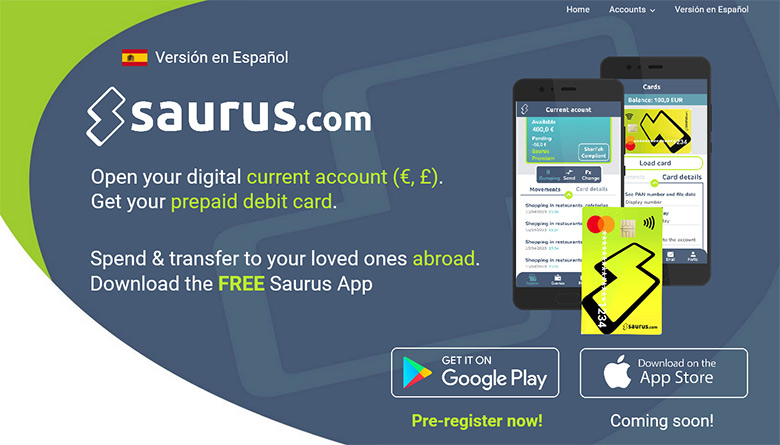 Saurus has applied for the registration of a stylized mark SAURUS.COM that includes an "S" shape in the front at the USPTO.
The mark's application was filed with an "intent to use" clause, for "Banking services; Banking and financing services; Investment banking services."
In a nutshell: Saurus.com has a rich domain history and was sold twice, on Sedo and GoDaddy for a total of $12,100 dollars before becoming a brand 25 years after its original registration date.
It takes a solid business plan to turn a domain into a viable brand.

Copyright © 2022 DomainGang.com · All Rights Reserved.