Seven with #Sedo : Four letter .com auction with plenty of quality #domain names
Sedo, a DomainGang sponsor, is having an LLLL .com domain auction that begins tomorrow.
Those quality 4L .com domains are still sought after, and not just by the Chinese domain buyers. Short domains can be acronyms for businesses, and offer catchy shortcuts to a rather long business name, or become brands in their own right.
We chose seven domains from this Sedo auction, for today's "Seven with Sedo" – a recurring theme about Sedo domain auctions.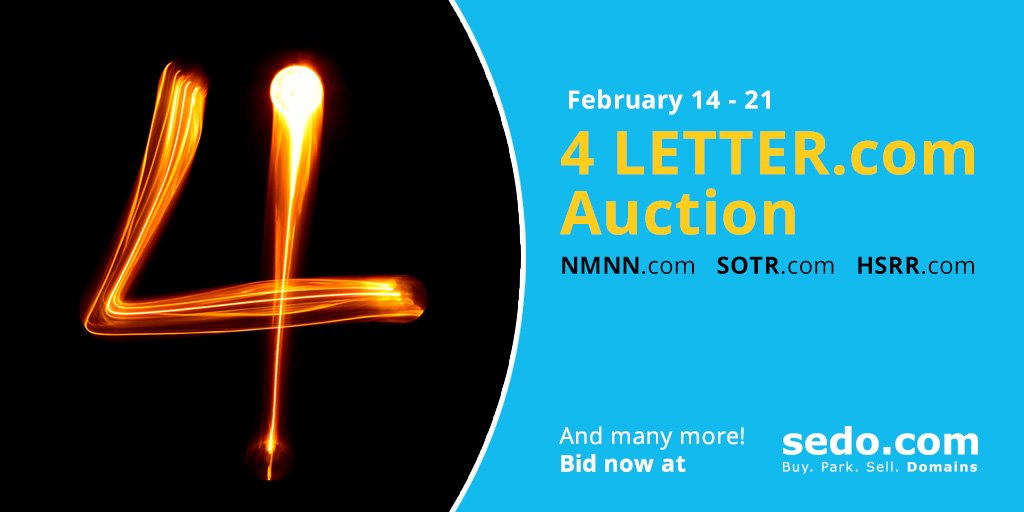 These 7 domains below represent our own personal selection, and not an endorsement of their individual sellers.
BXTA.com  – Great as a cryptocurrency exchange platform
CMWP.com – Good letters for WordPress related services, without violating a trademark
HSRR.com – Clean "western" letters
NMNN.com – Rare multi-letter instance of two adjacent letters
SOTR.com – Clean, pronounceable domain
TWAA.com – Fashion brand potential
VMDR.com – Has potential as a virtual medical resource
View the full Sedo inventory here.
Copyright © 2020 DomainGang.com · All Rights Reserved.